The top 10 Chinese companies Theresa May could target on her Beijing trip
30 January 2018, 17:32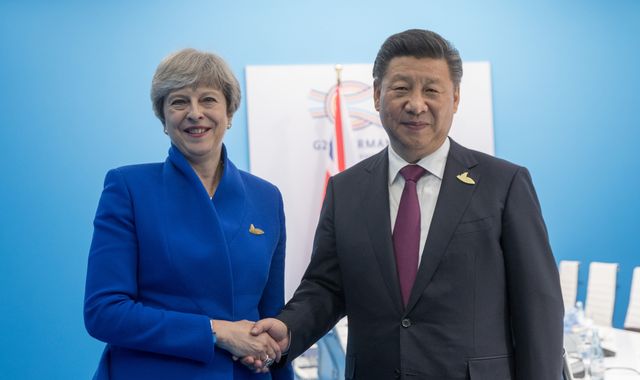 As Theresa May lands in Beijing, Sky News looks at the biggest Chinese public companies the UK could look to trade with.
Ping An
Ping An Insurance Group is China's second largest insurer and comes 16th in Forbes' Global 2000 biggest public companies.
Little known in the UK, despite buying London office building, Tower Place, in January 2015 for £327m, the insurer had sales of £75.8bn last year and a market value of £71.7bn.
CFO Jason Yao said Ping An, which means safety and peace, is looking to pour as much £32.2bn into overseas markets, targeting the UK, the US and Europe over the next one to three years.
:: LIVE: China says Brexit won't affect ties
China Mobile
China Mobile is the world's largest mobile phone operator, with more than 873 million subscribers, compared to Britain's largest operator, EE, which has about 30 million.
State-owned and listed on the New York and Hong Kong stock exchanges, it has operated since 1997 solely in China before buying Paktel in Pakistan in 2007 and launching Zong there a year later.
Coming in at 21 on the Forbes 2017 list, it had £75.9bn of sales in 2017 and a market value of £160.2bn.
Sinopec
China Petroleum and Chemical - or Sinopec - is one of the major state-owned energy companies and is 25th in the Forbes Global 2000 list.
Asia's largest oil refiner by annual volume processed, it already works in Gabon, Sudan, Ethiopia, Cameroon, Angola and Nigeria.
Set up in 2000 it was listed in Hong Kong, New York and London in the same year, and Shanghai in 2001.
Sinopec has bought stakes or signed deals with several companies including Exxon, Shell, Total, Canada's Daylight Energy and Syncrude.
In 2012 Sinopec invested £1bn in a 49% stake of UK energy firm Talisman's North Sea oil rigs.
China Life
China Life Insurance, which is 70% state-owned, is the country's largest life insurer and has more than 600,000 agents across China.
Founded in 1949 by the Communist Party of China, it formed a joint venture with insurance giant AIG in 1980 and went public on the Hong Kong Stock Exchange in 2003 and in New York the next year.
In 2015 China Life made its first overseas real estate investment in a Boston waterfront project, after Beijing lifted a ban on such investments.
Coming in at 53 on the Forbes Global 2000 list China Life had sales of £58.6bn in 2017 and has a market value of £69.4bn.
CSCE
China State Construction Engineering is the world's largest construction company by revenue.
Founded in 1957 as a state company, most of it broke from Beijing when it entered the US market in 1985.
Projects include Hong Kong Airport's passenger terminal, the Burj Qatar, the Trump International Golf Club in Dubai, the renovation of the Alexander Hamilton Bridge in New York City, Beijing's National Aquatics Centre and Moscow's Federation tower which is Europe's second tallest tower.
It has so far not built anything in the UK.
In 2009 the World Bank blacklisted it for six years for colluding in the bidding process for the Philippines National Roads Improvement and Management Project.
Ranked 71 on the Forbes Global 2000 list last year it had sales of £99.7bn and a market value of £30.6bn.
CITIC Limited
CITIC, based in Hong Kong, is an investment holding company primarily focused on steel, property and iron ore mining, with interests in telecoms, motor vehicles, food and consumer products.
Founded in 1990 it is 58% owned by the Chinese state, with both Japanese and Thai companies investing about £7.4bn in CITIC.
In 2017 CITIC bought an 80% stake of the franchise rights of McDonald's in Hong Kong and China for £1.47bn.
Coming in at 72 on the Forbes 2000 list, it had sales of £34.7bn in 2017 and a market value of £29.3bn.
Foxconn
Hon Hai Precision, which trades as Foxconn Technology Group, is the world's largest electronics manufacturer.
Based in Taipei, it is China's largest private employer.
Foxconn makes many familiar products, including the iPad, iPhone, iPod, Kindle, PlayStation 3 and 4 and BlackBerry.
It is heavily invested in Future Mobility, a car start-up which aims to sell fully electric autonomous premium cars in 2020.
Foxconn has factories around the world, including in eastern Europe, and Donald Trump announced last July the company will build a £7bn flat screen TV manufacturing plant in Mount Pleasant, Wisconsin.
Allegations of poor working conditions and a high number of suicides in 2010 raised concerns, but the late Steve Jobs defended Foxconn in 2010 as being "pretty nice" and "not a sweatshop".
Foxconn had sales of £95.8bn in 2017 and a market value of £38.5bn, coming in at 98th on the Forbes Global 2000 list.
PetroChina
PetroChina is the country's biggest oil producers and is the listed arm of state-owned China National Petroleum Corporation.
Founded in 1999, it is the most profitable company in Asia and shares oil products with fellow Chinese oil company Sinopec.
It claimed to have made China's largest oil find in a decade in 2007 in Bohai Bay off the country's northeast coast.
In 2009 it signed a £28.7bn deal with ExxonMobil in Australia and in 2011 paid £3.8bn for a 49% stake in Canada's Duvernay shale assets.
Listed on the New York, Hong Kong and Shanghai stock exchanges, in January 2018 the company said its profits may triple amid cost cutting and higher energy prices.
Coming in at 102 on the Forbes 2000, its 2017 sales were £88.2bn and market value is £144.5bn.
CCCC
China Communications Construction was established in 2005 after a merger of two other Chinese companies.
It focuses on construction and the design and manufacturing of dredging and port machinery.
CCCC is China's largest dredging company and the third largest in the world.
In 2015 it bought Australia's John Holland Group, one of the country's biggest construction firms and is looking to purchase Aecon constructors in Canada.
It is the largest government-owned infrastructure enterprise company listed on the Hong Kong Stock Exchange, with several international investors.
CCCC is 135th on the Forbes Global 2000 list and had sales of £45.3bn in 2017 and a market value of £27.4bn.
Alibaba
Alibaba, the online and mobile commerce giant, is a big deal in much of the world, but not in the UK.
In January 2018 Alibaba became the second Asian company to break the $500bn valuation mark.
Its online sales and profits have surpassed all US retailers, including Walmart, Amazon and eBay, combined since 2015.
Alibaba has more than 550 million monthly active mobile users and owns more than a dozen subsidiary companies ranging from AutoNavi, a Chinese map supplier, to the South China Morning Post, the main English language newspaper in Hong Kong.
The group comes in at 140 on the Forbes Global 2000, with 2017 sales of £15.2bn and a market value of £187.2bn.
(c) Sky News 2018: The top 10 Chinese companies Theresa May could target on her Beijing trip