The Five Most Tense Moments From The Council Meeting About Grenfell Tower
20 July 2017, 07:31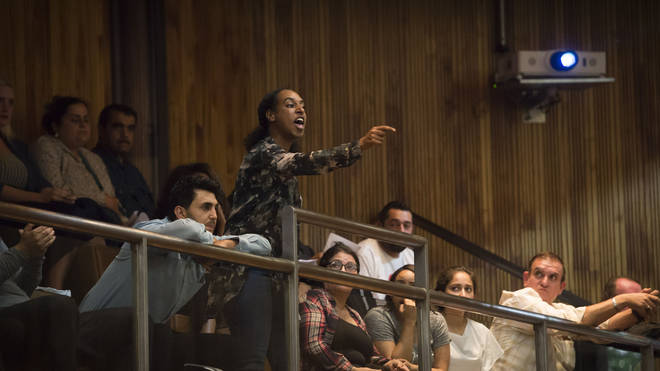 Survivors from Grenfell Tower heckled new council leader Elizabeth Campbell at her first council meeting - here are the five must-watch moments from the tense meeting.
During the meeting, Ms Campbell invited Grenfell victims, survivors and community groups who wished to speak to contribute - and things got very stormy.
1. There was panicked shouting and furious banging on the doors as survivors tried to get into the meeting. The Council had eight security guards trying to keep them out.
Grenfell Council Meeting: Survivors Bang On Doors To Get In
00:01:07
2. Survivors in the crowd shout "murderers" and "shame on you" as Elizabeth Campbell starts her first speech as council leader.
Grenfell Council Meeting: Crowd Shouts "Shame On You" And "Murderers"
00:01:24
3. Ed Daffern wrote the infamous Grenfell Action blog. He told Ms Campbell that he wrote to her warning of Grenfell's fire risk in 2010.
Grenfell Council Meeting: Blogger Warned Of Fire Risk In 2010
00:01:25
4. This woman's niece died in the Grenfell fire. She emailed Elizabeth Campbell, but didn't received a reply and said the council's response is 'embarrassing'.
Grenfell Council Meeting: Victim's Aunt Says Council Response Is Embarrassing
00:02:04
5. Heckler shouts "the dead don't want you, we don't want you".
Grenfell Council Meeting: "Resign! We Don't Want You!"
00:01:02
Latest on LBC
Comments