Dom Parsons wins Team GB's first medal at 2018 Winter Olympics
16 February 2018, 06:13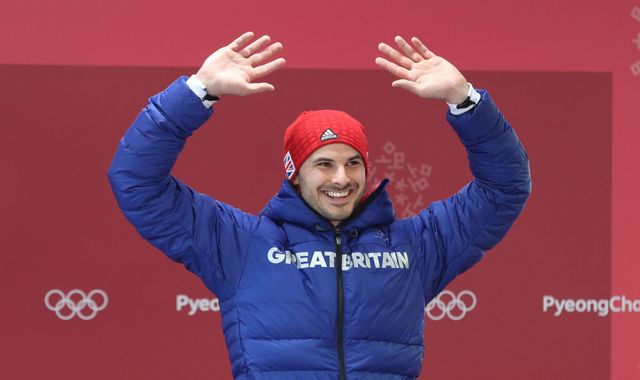 Great Britain's Dom Parsons won a dramatic bronze medal in the men's skeleton at the Olympic Sliding Centre in Pyeongchang.
Starting his final run in third place, Parsons thought he had blown it when he slipped behind Russian Nikita Tregubov with two racers still to go.
But Latvian Martins Dukurs lost time on the lower part of the course to hand Parsons a bronze, Great Britain's first of the Games.
A jubilant Parsons said of his surprise medal: "It hasn't really sunk in yet. I thought I'd lost it after that fourth run, it felt like it had gone.
"But Martins Dukurs has made some more mistakes, and he's the last person I'd expect that from.
"It's been great, all the work we've put in has paid off."
Parsons had won his first and only World Cup podium in Calgary in 2013 but sporadically threatened the podium since, including a fourth place in St Moritz last month.
But working closely with his sled designer, former Great Britain Olympian Kristan Bromley, Parsons concentrated on getting his set-up just right for the Pyeongchang track.
A series of impressive runs in official training raised the prospect of Parsons earning an unlikely place on the Olympic podium - and he followed it through in style to make a medal breakthrough for Britain on Thursday, day seven of the Games.
Parsons added: "It's incredible. Four years of work has gone into this. Right from after Sochi, I started working with Kristan Bromley and this has been the goal from that point.
"Sometimes it seemed like it wasn't that close in coming, and it's just amazing that it's all come together this time."
Team GB chef de mission Mike Hay said: "He's trained well here so it's not a massive surprise that he was competitive. He's been first and second quite a lot in the practice runs leading up to this.
"There's been a lot said about the suits but believe me it's down to this guy's fitness, it's the sled, it's the runners - it's a whole combination of things."
(c) Sky News 2018: Dom Parsons wins Team GB's first medal at 2018 Winter Olympics