Lizzy Yarnold chosen as Team GB flag-bearer for 2018 Winter Olympics opening ceremony
8 February 2018, 05:59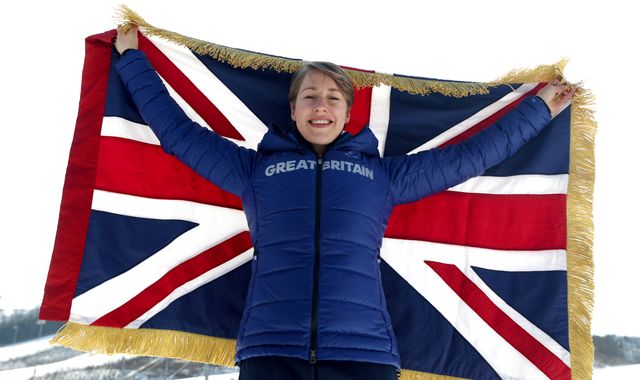 Olympic skeleton champion Lizzy Yarnold will carry Team GB's flag at the opening ceremony of the 2018 Winter Games in Pyeongchang.
Yarnold, a gold medallist at the 2014 Games in Sochi, was selected by her team-mates and will carry the flag when the Games open in South Korea on Friday.
"There's nothing that would fill me with more pride than walking out ahead of my team," said Yarnold.
"This is the moment that I've been working hard for four years to be a part of as I know everyone else has. To be a flagbearer for them all is just a huge honour."
Yarnold added: "When I was watching the ceremonies as a kid, that moment [when they announce] over the tannoy 'Great Britain' - that would make me really emotional and cry, as I probably will tomorrow.
"It is something that is not your competition and field of play where you have to be serious, Lizzy the skeleton athlete, I'm now representing my team and we together are representing the whole of Great Britain and holding their hopes on our shoulders.
"I want to make this our most successful Winter Olympic Games ever."
Yarnold is aiming to become the first Briton to successfully defend a Winter Olympic title when she competes in the women's skeleton on February 16 and 17.
The 29-year-old says she feels "at home" in Pyeongchang and is looking forward to the start of the Games.
"Now I'm here in Pyeongchang going down the track for the first time in six months yesterday, I do really feel at home," she said.
"It's fast, the ice is amazing - it's super hard ice. It's going to take the best of me as an athlete to perform here, as it will everyone, but I hope it will bring a tough competition.
"We will be fighting for medals but I want to be there on the podium."
The North and South Korean teams are set to march under a unified flag at the opening ceremony on Friday and Yarnold believes the act could help to ease tensions between the two countries.
"Isn't it amazing what sport can do for politics?" she said. "Maybe it is just for a couple of weeks but it is still a really amazing thing for peace at that is what the Olympics has always partially stood for."
(c) Sky News 2018: Lizzy Yarnold chosen as Team GB flag-bearer for 2018 Winter Olympics opening ceremony