Okolie vs Chamberlain: Lawrence Okolie tells Isaac Chamberlain to expect a painful dose of reality
1 February 2018, 13:53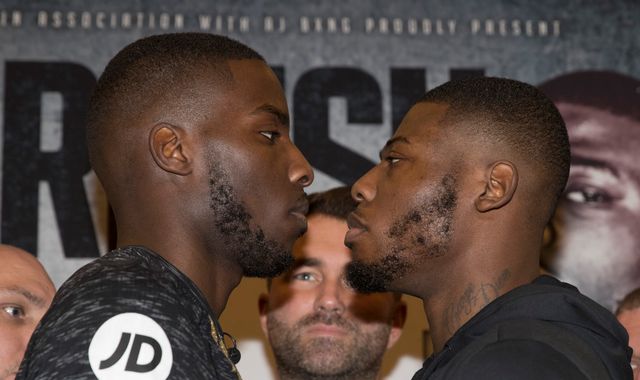 Lawrence Okolie warned Isaac Chamberlain to expect a painful dose of reality as the London rivals were reunited for their final press conference.
The cruiserweight duo made confident predictions as they were brought head to head in front of the watching media before Saturday's fight at The O2, live on Sky Sports.
Chamberlain promised to "win at all costs" with two unbeaten records on the line, but Okolie insists his opponent's limitations will be harshly exposed this weekend.
"It's all about believing in myself," said Okolie. "Isaac has got people like [trainer] Ted [Bami] lying to him. He's got strength and conditioning lying to him, he's got friends around him that aren't really his friends, lying to him.
"Over all of that time, building him up to the point where you look at reality and then you have to look at just make believe.
"The reality is Isaac and Ted talking about power, stoppages, so on and so forth. I actually look back and I watch Isaac's fights and I watch the reality standing in front of me, and I think his strategy to stop people is the same every single time.
"The problem with Isaac and Ted is that they are planning on winning this fight on what I don't do well. It's not Isaac's so good, it's Lawrence is going to get tired late, or Lawrence is going to make this mistake or that mistake.
"If Isaac's got power, we will find out. If I've got power, we'll find out and we'll see who is going to be able to take whose shots and who isn't."
Brixton man Chamberlain restricted himself to a shorter speech, vowing to dish out a first professional defeat to the Hackney fighter, who represented Great Britain at the 2016 Rio Olympics.
"I'm just raring to go, the talking is done," said Chamberlain. "I'm tired of talking. Certain other people just keep talking on social media about Olympics, Olympics. But do you know what, this is different. This is the professional game and I'm ready. I'm surprised he didn't wear his Olympic tracksuit with him, because that's all he talks about.
"Win at all costs, just win. That's all I'm prepared to do. That's my focus - just win."
Both boxers had to be separated by security at the end of a lengthy face-off after Okolie issued a chilling final promise.
He said: "One hundred per cent a stoppage win, but ending it in one or two rounds is a disappointment, not only to myself and the fans, but because it's very easy to overcome getting stopped in one round.
"What needs to happen is Isaac needs to be battered from one to maybe eight rounds. That's how I see it."
Watch Lawrence Okolie vs Isaac Chamberlain, from The O2, London, Saturday, February 3, live on Sky Sports Main Event & Action.
(c) Sky News 2018: Okolie vs Chamberlain: Lawrence Okolie tells Isaac Chamberlain to expect a painful dose of reality