Boris Johnson watches on as he's branded 'disgrace' in House of Lords
26 February 2018, 22:20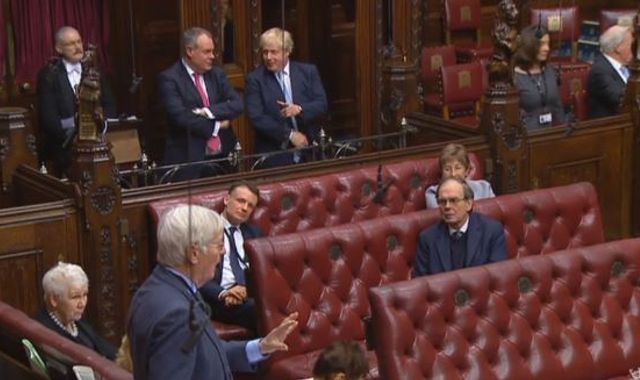 Boris Johnson was forced to stand and listen as he was branded a "disgrace" and an "embarrassment" as the House of Lords debated key Brexit legislation.
The Foreign Secretary endured an onslaught from Liberal Democrat peer Lord Wallace of Saltaire during the latest stage of the EU Withdrawal Bill's passage through Parliament on Monday night.
Standing at the bar of the House of Lords, as Cabinet ministers have regularly done when key Brexit bills are considered by the upper chamber, Mr Johnson managed to raise a smile despite Lord Wallace's criticism.
As he rejected suggestions the EU Withdrawal Bill is merely "a mechanical bill" to prepare the UK for leaving the EU, Lord Wallace told peers the legislation in fact "gives very wide discretion to the Government to design our future relationship with our most important security, political and economic partners".
He added: "It would be easier to accept that this is a mechanical bill... if we had some confidence that the Government actually knows what it wants in these areas.
"And part of our problem is that we have no such confidence, many of us, I don't think the Foreign Secretary has a clue of what he wants by the way of a future relationship with the EU.
"I doubt he's even thought about it for more than three of four minutes, he's too busy thinking about the next anecdote he's going to tell."
Ramping up his criticism of Mr Johnson, the unelected politician branded the Foreign Secretary's recent speech on Brexit "a disgrace".
Lord Wallace went on: "For a Conservative Party that has always prided itself on its commitment to a strong foreign policy, it must be a real embarrassment that we still have someone in place who is incapable of giving a serious speech on foreign policy as we currently have."
The EU Withdrawal Bill is currently at committee stage in the House of Lords, where peers have tabled hundreds of amendments as they conduct their line-by-line scrutiny of the legislation.
Aimed at ending the supremacy of EU law in the UK in time for Brexit, the Government saw the bill suffer one defeat when it passed through the House of Commons last year, after 11 Tory MPs staged a rebellion to demand a "meaningful" vote on any divorce deal with the EU.
(c) Sky News 2018: Boris Johnson watches on as he's branded 'disgrace' in House of Lords