Defiant PM says she's focused on job in hand as leadership speculation continues
31 January 2018, 11:12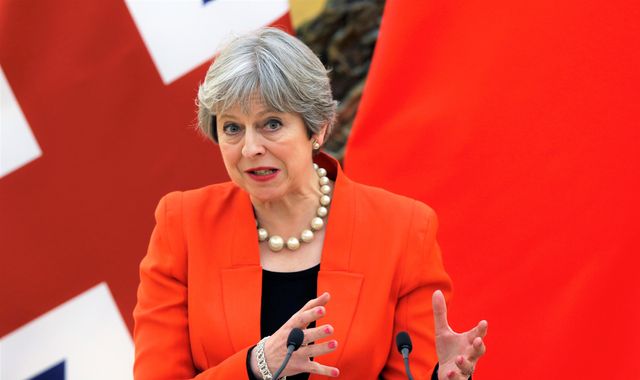 Theresa May has said she is committed to making sure families achieve the "British dream" of "ensuring each generation has a better future than the last", amid continuing questions about her leadership.
After defiantly declaring she was "not a quitter", the Prime Minister told reporters during her trip to China that she was focused on the job in hand.
Mrs May has faced unrelenting speculation about her position in Downing Street in recent days, amid disquiet over Brexit.
The leak of a draft analysis forecasting an economic hit regardless of what exit deal Britain manages to agree with Brussels has also piled on the pressure.
:: Top 10 Chinese companies May could target on her Beijing trip
But speaking in Beijing, Mrs May said her Government had been working to make sure families could achieve the "British dream" of rising living standards.
When asked what she would do differently on domestic issues, Mrs May said: "Yes, we do need to do more.
"And we do need to ensure that we are talking about what we have already achieved - to those young people who worry whether they will get their own home.
"To those parents who are concerned about the education their children will be getting. To people who will be worried about the jobs for the future for their children.
"And that's what we will be doing. And I am committed to delivering on that."
There was also a Brexit boost for the PM on the trip, with Chinese Premier Li Keqiang assuring her that Britain's EU exit would not affect ties between the two countries.
The three-day visit is aimed at drumming up trade and investment between Britain and China and the PM has been accompanied by a number of business people.
Mrs May hailed trade links between the two nations, saying: "Trade between our two countries is already at record levels, worth over £59bn.
"UK exports to China have grown by over 60% since 2010, and the UK is already one of the largest European recipients of Chinese foreign direct investment.
"We have also agreed to open up the Chinese market to enable our great UK financial services expertise to reach more Chinese consumers.
"And we'll be pleased to welcome a significant number of major new commercial deals due to be agreed during this visit, expected to total over £9bn, creating and securing jobs and prosperity both here and in the UK."
Mr Li said he had "faith in the brighter prospects of China-UK ties" and had talked with the British leader about how to "uphold free trade and advance globalisation".
Produce from the UK would be allowed in to "give the Chinese consumers more options in accessing higher-quality agricultural products", he said.
Mrs May said the two countries had agreed to lift a ban on British beef exports to China in six months.
(c) Sky News 2018: Defiant PM says she's focused on job in hand as leadership speculation continues