'KFC is closed - it's an emergency!': Police in Manchester issue 999 warning after 'ridiculous' call
28 February 2018, 14:49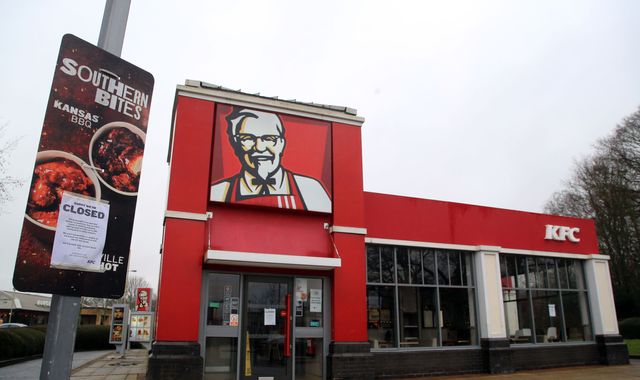 Audio of a "ridiculous" 999 phone call made by a man reporting his local KFC outlet had closed has been released by police in Manchester.
A number of forces have urged the public to stop reporting the finger lickin' crisis - because it is not an emergency, or a police matter.
The fast food chain had to shut most of its 900 restaurants across the UK and Ireland last week after "teething problems" with a new delivery contractor meant it ran out of chicken.
Greater Manchester Police said it received a call "from an angry customer" on 21 February which took the call handler 48 seconds to clear the line.
The force said there were 73 other 999 calls in the same hour, "all of which needed our full attention".
The man started off the call by saying: "I've got an emergency here."
He went on: "I don't know how you feel about this but KFC is closed and I'm entirely not happy. I have to go to Burger King now."
The call handler immediately informed him it was not a police matter and that she was terminating the call, but the man held on a little longer to ask who he should contact instead.
Superintendent Mark Kenny, who oversees the force's call handling team, said: "While some will think this is a harmless prank or joke I want to reiterate the severity of this - we had 74 calls to 999 and 154 to 101 during the hour this came in, all of which needed our full attention.
"Our hard working call handlers answered all but one of the emergency calls, but 21 non-emergencies went unanswered.
"It's not a stretch to say that, had this man not selfishly called for such a ridiculous reason, we would have been able to help more people who had a real reason to pick up the phone during that time.
"We work as hard as we can to answer as many calls as possible but people like this, and others who either misuse the service or call us for reasons they shouldn't be, put real strain on our already stretched teams.
"At the same time this call came in officers were dealing with a multiple road traffic collision with people trapped, a welfare check after a disturbance in someone's home, a large group of youths drinking and causing disturbance and the aftermath of an armed robbery, as well as other incidents.
"These are the things we are here to help you with, and we want to be able to."
He urged the public to "please, think before you pick up the phone".
Frustrated police officers in Tower Hamlets also issued a terse tweet last week, urging people not to contact them about the "KFC crisis".
KFC said it was "making progress" to reopen restaurants and has "removed items from our menu while we fix our remaining distribution problems".
(c) Sky News 2018: 'KFC is closed - it's an emergency!': Police in Manchester issue 999 warning after 'ridiculous' call