Michael Gove: Water companies must clean up their act or face tougher regulation
2 March 2018, 12:02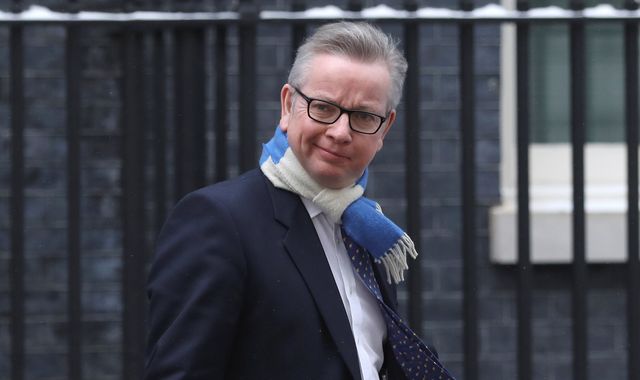 Michael Gove has warned water companies that they must change their conduct or face tougher regulation.
In a speech to bosses of the UK's main water suppliers, Mr Gove said the industry had not been "acting sufficiently in the public interest".
He said: "Some companies have been playing the system for the benefit of wealthy managers and owners, at the expense of consumers and the environment.
"They have shielded themselves from scrutiny, hidden behind complex financial structures, avoided paying taxes, have rewarded the already well-off, kept charges higher than they needed to be and allowed leaks, pollution and other failures to persist for far too long."
And he claimed he was "prepared to consider changes to the regulatory framework" if companies continued to "drag their feet".
:: Thames Water looking to sluice away bad reputation
The Environment Secretary said that shareholders of the nine large English regional water and sewage companies received £18.1bn between 2007 and 2016.
That represented almost all of the £18.8bn profit made by the companies, of which three paid no tax last year.
One company, Thames Water, has paid no tax for the last decade, Mr Gove said.
He claimed some companies had used "multi-layered corporate structures of dizzying complexity" and "financial engineering" to minimise tax obligations and reduce transparency.
Responding to Mr Gove's comment at the same conference, Water UK chief executive Michael Roberts said water companies had delivered major improvements since the 1990s.
He added: "Operating in the public interest means operating to the highest standards. 'Doing nothing' is not a viable option.
"Thankfully, I do not believe that 'doing nothing' accurately captures the current mood of water companies.
"In fact, companies are already working with others to reinforce how we operate in the public interest, through our actions and words."
Labour has pledged to renationalise railways, water, energy and the Royal Mail, partly in response to similar concerns over large profits and low taxes that Mr Gove highlighted in his speech.
The Environment Secretary acknowledged that industry conduct had increased public support for nationalisation.
But he said he considered it a "terrible backward step", saying he believes private markets are the best way to meet customer needs.
(c) Sky News 2018: Michael Gove: Water companies must clean up their act or face tougher regulation