Two men stabbed to death less than a mile apart in Camden
21 February 2018, 09:58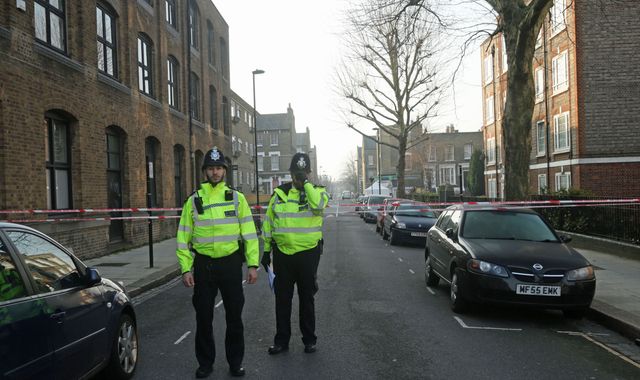 Murder investigations have been launched after two young men were stabbed to death less than a mile apart during a night of violence in northwest London.
Police were called to Bartholomew Road in the Kentish Town area of Camden at about 8.30pm on Tuesday, where a male - named by his family as Abdikarim Hassan - was found with multiple stab wounds.
The 17-year-old, who came to the the UK from Somalia when he was two years old, was pronounced dead at the scene.
There have been 16 fatal stabbings in the capital this year - five of whom were teenagers. There were a total of 80 in 2017 - the most in almost a decade.
Abdikarim's uncle, Yusuf Ahmed, described the Westminster College student as a "good guy" who was "always smiling" and enjoyed playing football with his friends.
Mr Ahmed said: "He was a good brother. He was the eldest of six. He was helping his mum, whenever he was off from college, he was taking his siblings to school."
Speaking on behalf of the teenager's mother, his aunt Fatima Deria added: "She said she came here for their safety, to flee from home. But he's not safe, is he? He's dead.
"This is where he lost his life, not back home."
Less than two hours later, at 10.15pm, officers responded to another call just a short bus ride away in Malden Road after neighbours heard "a lot of screaming" outside.
There they found a 20-year-old man, named locally as Sadiq Adan Mohamed, with serious stab wounds. He was also pronounced dead at the scene.
Denise Arnold, 63, who lives in Malden Road, saw people attempting to resuscitate him before police arrived.
She said: "My neighbour rushed out because she knew there was something bad. She stood on her bed and she could see, so she rang 999 and she was told to go down and check he was breathing."
Residents reported seeing a large group of people gathered around the victim, with further "wailing and screaming" heard at around 11.30pm.
Neither of the victims have been formally identified and no arrests have been made.
The Met Police launched two separate investigations to establish whether there are any links between the two incidents.
:: Fatal stabbings at highest level since start of decade
Sarah Hayward, a councillor for King's Cross, tweeted: "Absolutely heartbroken by reports of numerous stabbings in Camden tonight.
"My thoughts are with families, friends and emergency services. Appalling news."
The deaths came just two nights after a fatal stabbing in west London.
Police found Lewis Blackman, 19, of Camden, with knife wounds at around 3.20am on Sunday.
:: 'I stabbed him six times' - gang member on life with a knife
Mayor Sadiq Khan has been under pressure to do more to combat deadly knife crime in London, as have the courts, with a top Scotland Yard officer calling for tougher sentences and better rehabilitation to stop youngsters from re-offending.
Last month, Mr Khan announced a £15m funding boost for the Met Police to tackle the issue during the next year, and blamed Government cuts to police budgets and officer numbers for the city's record.
A number of murder probes have been launched into fatal stabbings since then, including the deaths of Hasan Ozkan, 19, in Barking on 3 February, and Hannah Leonard, 55, in Camden on 9 February.
Nineteen-year-old Sabri Chibani, from Streatham, suffered fatal knife wounds to the chest on 11 February and Lord Promise Nkenda, 17, from Newham, was stabbed to death on Valentine's Day.
Mr Khan - who wants to recruit 1,000 additional police officers - said he was "desperately saddened" to hear of the deaths on Tuesday night, adding that it was "simply not acceptable" for people to carry a knife.
Met Police commissioner Cressida Dick added: "The frequency with which some of our young people are prepared to take each other's lives is shocking.
"For two young men to be murdered so close together - both in time and geography - makes this even harder to comprehend."
:: Anyone with information regarding the incidents in Camden on Tuesday night is asked to contact police on 101, or anonymously via Crimestoppers on 0800 555 111.
(c) Sky News 2018: Two men stabbed to death less than a mile apart in Camden