Kenyan newspaper sorry for fake death notice of high-profile political donor
7 February 2018, 17:09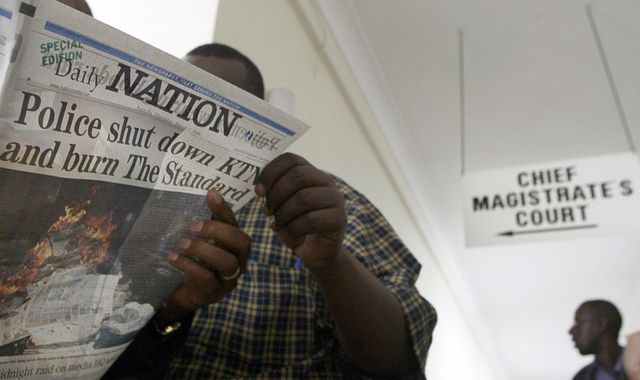 A Kenyan newspaper has apologised after publishing a fake death notice for a prominent political donor.
The Daily Nation said it was sorry for the "pain and anguish" suffered by Jimi Wanjigi, a high-profile financial supporter of Kenya's main opposition leader Raila Odinga.
Some Kenyans believe the notice was a threat to Mr Wanjigi, who funded Mr Odinga's election campaign.
The paper has reported the incident to police and released CCTV of a man who is suspected of booking the funeral announcement.
The death notice featured Mr Wanjigi's photo and family history along with a slightly amended name.
It claimed he had been killed "after a failed armed robbery in Nairobi's Karen estate".
George Kegoro, executive director of the Kenya Human Rights Commission, said: "It sounded like a threat to Jimi Wanjigi and must be understood as forming part of the intimidation to which the political opponents of Jubilee (the ruling party) are being subjected."
The incident comes after a week of arrests of opposition politicians and a crackdown on independent media under Kenyan President Uhuru Kenyatta.
In August, the tortured body of election official Chris Msando was discovered days before Kenya's elections, sending shockwaves through the country.
Last week, Mr Odinga's supporters symbolically inaugurated him as president after disputing President Kenyatta's win.
It prompted the Kenyan government to shut down three TV stations planning to stream Mr Odinga's event live.
Two of the stations are now back on air, four days after a court ruled their transmission should be restored.
The censorship prompted criticism from the UK, US and the United Nations.
(c) Sky News 2018: Kenyan newspaper sorry for fake death notice of high-profile political donor