Panic as Americans receive false tsunami warning on their phones
6 February 2018, 15:47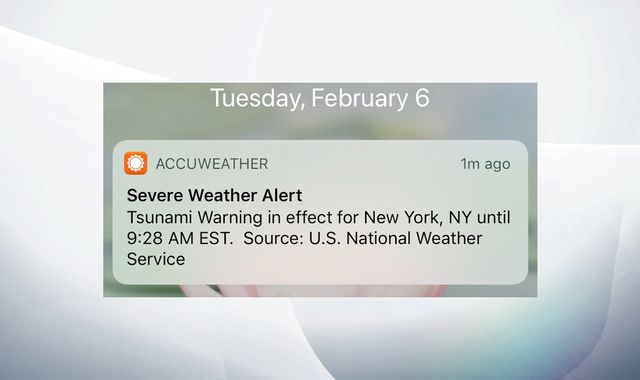 A tsunami alert sparked panic across the US after a test warning was sent to thousands of phones in error.
Mobile users with the popular app AccuWeather received the alert for the US East Coast and beyond on Tuesday, claiming a tsunami warning was in effect.
America's National Weather Service, which was listed as the source in the alert, confirmed about half an hour later that it had issued a monthly test that some users received "as an actual tsunami warning".
The incident comes less than a month since people in Hawaii were warned of an incoming missile, only for it be confirmed as a "false alarm" 38 minutes later.
Katia De Negro, who received the tsunami alert in Manhattan, told Sky News: "My reaction was definitely of surprise.
"I live in the financial district in Manhattan, two blocks from the East River, which is a sensitive area for flooding after Hurricane Sandy.
"I tried to open the notification on the app to read more, but it didn't work so I came on Twitter and read that many people across the East Coast received the same warning.
"I then tried to open the notification again and this time it showed the message that it was a test.
"I don't know how that happened, but they should have written that it was a test on the notification itself, especially after what happened in Hawaii last month with the missile alert."
There were reports of alerts being received on phones in New York, Texas, Florida, Louisana and South Carolina.
In a message on Twitter, AccuWeather said: "The National Weather Service Tsunami Warning this morning was a TEST. No Tsunami warning is in effect for the East Coast of the US."
The US National Weather Service tweeted: "THERE IS NO TSUNAMI WARNING. A Tsunami Test was conducted earlier this morning, that did have TEST in the message.
"We are currently trying to find out how a message went out as a warning. We will update you when we find out more."
The National Weather Service in Charleston, South Carolina, added: "A Tsunami Warning is not in effect. Repeat, a Tsunami Warning is not in effect."
(c) Sky News 2018: Panic as Americans receive false tsunami warning on their phones