President Trump basks in the afterglow of a speech well made
31 January 2018, 05:33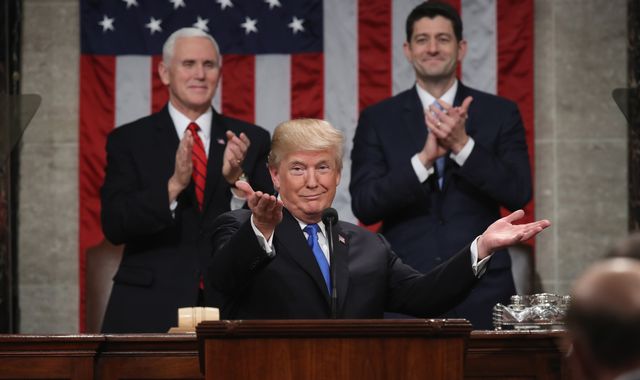 Donald Trump is pleased with himself most of the time, he'll be particularly pleased with himself this morning.
His first State of the Union address went well. It was well constructed, well delivered and well received, at least by his own party.
This was a speech big on patriotism and emotional stories of real American heroes and that tends to go down well here . It was an attempt to rekindle the idea that is the "American Dream".
Many here think that the huge income inequality and loss of hope in much of rust-belt America rendered the American Dream over. Trump has staked his claim for bringing it back.
It was also big on self- congratulation. He claimed credit for an economy that is roaring ahead, with record highs in the stock market and low unemployment.
He claimed his "biggest tax cuts in American history" had re-ignited growth and said a massive injection of $1.5 trillion in the country's crumbling infractructure would further accelerate that growth.
But there's a pattern emerging here and it raises serious questions. President Trump also called for more funding for the military and billions more to be spent on a new nuclear arsenal.
And then there's Afghanistan. Trump vowed to finish the job previous administrations had failed to do and defeat the Taliban.
The truth is that will take tens of thousands more troops and countless billions of dollars. And even that is no guarantee of success - it hasn't worked in the past.
So all this spending and all these tax cuts? Who on earth is going to pay for it? The President will hope much of the spending on infrastructure will be private capital. That remains to be seen.
The other big unknown after this speech is whether he has said enough to persuade Democrats to sign up to the immigration deal that will protect the so-called Dreamers.
And if he has done enough to win over the Democrats, will he have lost the backing of right wing Republicans? It remains the big issue in American politics right now and this speech may not have done much to change things.
The address will be remembered as much for what was not in it . After shouting "no collusion" at the top of his voice on almost every day of this Presidency, last night those two words were not uttered once.
The Russian investigation was not even referred to during the speech. It remains the greatest threat to his administration.
But Trump will not be thinking about that right now. Instead he'll be basking in the afterglow of a speech well made .
(c) Sky News 2018: President Trump basks in the afterglow of a speech well made