Topless woman interrupts Silvio Berlusconi's election vote in Italy
4 March 2018, 14:54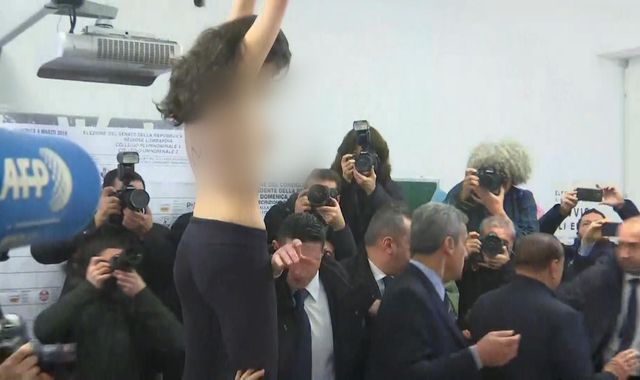 A topless protester leaped on to a table in front of Silvio Berlusconi as he was about to vote in the Italian elections.
The self-styled godfather of Italian politics was posing for photographers as the woman jumped on to the table in front of him.
Scrawled across her bare chest were the words: "Berlusconi, your time has run out."
The word Femen, identifying her as part of the radical Ukrainian feminist group, was written on her back.
Former Italian prime minister Mr Berlusconi looked stunned as he stared up at the woman.
He was quickly ushered out of the room by security guards as a sea of photographers took pictures of the woman.
She was then taken down from the table and out of the room.
Mr Berlusconi, Italy's longest-serving post-war premier, has refashioned himself as a moderate, elder statesman, as well as an animal rights activist, who can stop the rise of anti-establishment parties.
The 81-year-old's political career was widely considered to be over when he left power amid national disgrace and a sovereign debt crisis in 2011.
Putting his legal woes and infamous Bunga Bunga parties and sex scandals behind him, his Forza Italia party, which is allied with two right-wing parties, is predicted to be a potential winner.
He recently said: "I have fought back against all the nastiness, all the attacks, all the lies that were thrown at me, from the Bunga Bunga to the minors and all the rest."
Mr Berlusconi cannot stand for office again due to a 2013 tax fraud conviction, however his party is ahead in the polls and he is likely to emerge as a kingmaker.
(c) Sky News 2018: Topless woman interrupts Silvio Berlusconi's election vote in Italy