Here Are The Five Most Agonising Car-Crash Interviews From LBC
2 May 2017, 12:27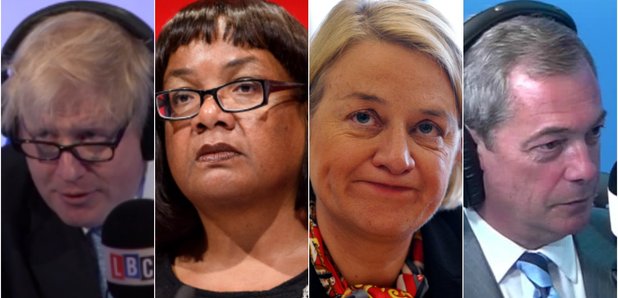 Diane Abbott suffered what was called a "car crash" interview on LBC this morning, when she struggled spectacularly to say how much Labour's policy on police would cost.
But the Shadow Home Secretary is far from the first politician to fall foul of an LBC presenter's simple question. We've rounded up the best for you.
But warning: they are excruciating to watch.
Diane Abbott Struggles With Police Costs
Diane Abbott's Agonising Interview With Nick Ferrari
03:48
The Shadow Home Secretary is asked a very simple question by Nick Ferrari - how much will her policy cost to put 10,000 new police officers on the street? Her first response is £300,000 - just £30 per officer - and the interview just got more agonising as it went along. She even said they were recruiting 250,000 officers, but when Nick queried that, she responded: "I think you said that, not me."
Natalie Bennett's "Brain Fade"
The then Green Party leader was speaking to Nick Ferrari as she launched her party's housing policy before the 2015 election. When she struggled to answer one question, things went downhill very, very quickly. She later blamed the interview on having "a huge cold" and "brain fade".
When Nigel Farage's Spin Doctor Stormed In To Stop The Interview
James O'Brien v Nigel Farage: Watch In Full
Watch the whole of the tense interview between James O'Brien and Ukip leader Nigel Farage.
19:24
James O'Brien's forensic interview with Nigel Farage was 20-minutes long and ended up so awkward that Patrick O'Flynn, Mr Farage's spin doctor, stormed into the studio to call a halt to proceedings.
Boris Johnson Squirms Over Garden Bridge
Boris Johnson On The Ropes Over Garden Bridge
Boris Johnson on EU red card: "I think what would be better is if we had a brake of our own that we were able to use."
09:00
The Garden Bridge was supposed to be Boris Johnson's legacy as Mayor. But Nick Ferrari really put him through the ringer with these brilliantly-reseached questions that left him completely lost for words.
"Just What Is Your Policy?"
Shadow Transport Secretary Refuses To Say Which Airport He Backs
The Shadow Transport Secretary Andy McDonald criticised the government for the delay in the airport decision... but couldn't say which option he backs.
03:41
Speaking to Clive Bull, Shadow Transport Secretary Andy McDonald criticised the government for delaying the airports decision... but refused time and again to say which option he backs.
Latest on LBC
Comments