IDS And Labour Peer Clash Over Media Attacks On Judges
8 December 2016, 19:23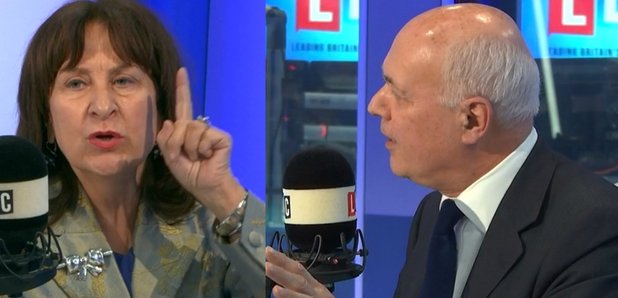 The Daily Mail's branding of High Court judges as "Enemies Of The People" after their Brexit ruling sparked this feisty row between Labour peer Baroness Kennedy and leading Leave campaigner Iain Duncan Smith.
Brexit Row So Feisty, Iain Dale Can't Even Sign Off His Show
Row erupts between Iain Duncan Smith and Labour peer over media attacks on Brexit judges.
01:29
The pair were live in the LBC studio with Iain Dale for the latest edition of his Brexit Briefing.
Subscribe To The Brexit Briefing On iTunes
It had been an even-tempered exchange about the legal challenge to Brexi when Iain asked a final question about media criticism of the judges involved.
That's when it all kicked off between Kennedy and Duncan Smith, after he said that the media criticism of the judges was fair and she vociferously disagreed.
Even as Iain Dale tried to sign off the show, Kennedy was determined to get her point across: "I think it's shocking when politicians are not standing up for the independence of our judiciary!"
"What are you going to do?" asked Duncan Smith. "Muzzle the media?"
It was a fast and frank exchange - watch how it played out above and see if Iain Dale did manage to squeeze his sign-off in before the show ended.
Latest on LBC
Comments