James O'Brien Named Radio Broadcaster Of The Year
17 March 2017, 12:00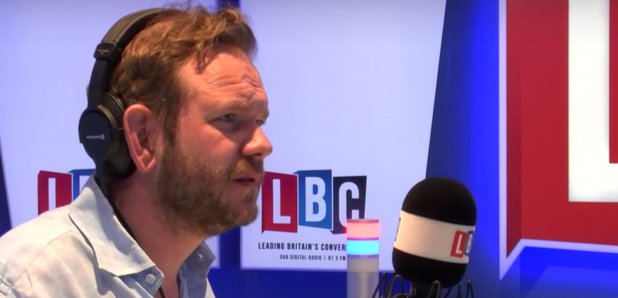 LBC's James O'Brien has been given the prestigious Broadcaster of the Year award at the British Press Guild Awards.
The LBC presenter won the gong after a brilliant year, with expert judges choosing him ahead of three rivals from the BBC.
Speaking about the award, judge Maisie McCabe said: "In a year that seemed to bring us at least a decade's worth of major news events, James spoke honestly and compassionately about the major issues of the day, not only providing brilliant live radio for his listeners, but reaching a whole new audience online, as people shared his remarks and debated them on social media."
James's listening figures have gone through the roof in the last 12 month and the clips published on social media from his show have reguarly gone viral.
He even forced the government into an embarrassing U-turn last year, when he compared Home Secretary Amber Rudd's party conference speech to a passage from Mein Kampf. That clip was viewed by over 4million people.
James O'Brien On Amber Rudd's Foreign Worker's Policy
Discussing Home Secretary Amber Rudd's push to make firms list foreign workers, James O'Brien's startling point will stop you in your tracks.
02:05
The first of James's clips to go viral last year came the day after the murder of Jo Cox. His epic monologue on how the politics of hate that had dominated the run-up to the EU Referendum had contributed to the death of a serving MP.
James O'Brien's Monologue on Jo Cox
James O'Brien's monologue on Jo Cox is a must-listen.
03:28
Brexit has obviously been a major topic of conversation in the last year on James's show and few calls were as memorable as when Ashley in Pinner phoned up. He said he was happy for his business to take a short-term hit for the ability of Britain to set our own laws. But when James asked him which law he was most looking forward to repealing, he was left lost for words.
Which EU Law Are You Looking Forward To Getting Rid Of?
07:01
His success has come to the attention of other media. In labelling James "the man who made speech radio viral", Buzzfeed asked: "How did a phone-in show take over the internet?" The New Statesman noted: "This is the first time a British broadcaster on the left has become a consistent viral phenomenon."
Hugely well deserved. Well done James!
Latest on LBC
Comments
The Best Of James O'Brien
If You Like James, You'll Also Like...