The Nigel Owens Terrace Story That Cracked James Up
13 February 2017, 13:29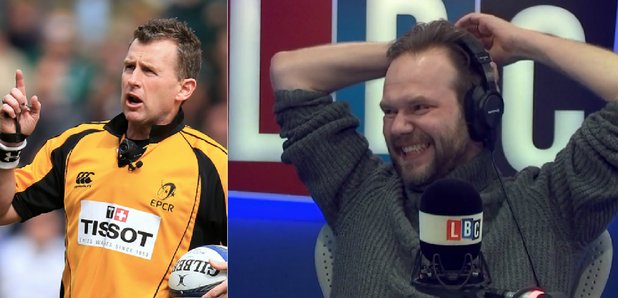 Nigel Owens was on James O'Brien's LBC show talking about a very serious subject: homophobia in sport. But with this anecdote, he showed the lighter side of the issue...
James was joined by Nigel, who famously refereed a Rugby World Cup final and who is one of the most high profile openly gay men in sport, to talk about homphobia in sport.
As well as tackling that big issue, Nigel found time to regale James with one great story of how he was watching a match in disguise - and still found himself on the receiving end of some abuse.
It's a great story with a cracking punchline that won Nigel even more fans on social media:
@LBC @mrjamesob I love Nigel Owens! Fantastic ref and truly lovely man.

— NAnne (@Nerysanne) February 13, 2017
@mrjamesob How great was @Nigelrefowens? Have him on again, great radio... @LBC

— Vivid Ricky (@VividRicky) February 13, 2017
@Nigelrefowens and @mrjamesob on the same radio show, it's like a dream come true

— Stumpty Dumpty (@Stumpy7780) February 13, 2017
@Nigelrefowens @mrjamesob James is great but I think he should give a daily hour to you.

— Sam (@SteamedSams) February 13, 2017
Latest on LBC
Comments
The Best Of James O'Brien
If You Like James, You'll Also Like...