EU's Brexit Negotiator Tells LBC: It Would Be Suicide To Give UK Better Deal
31 January 2017, 09:46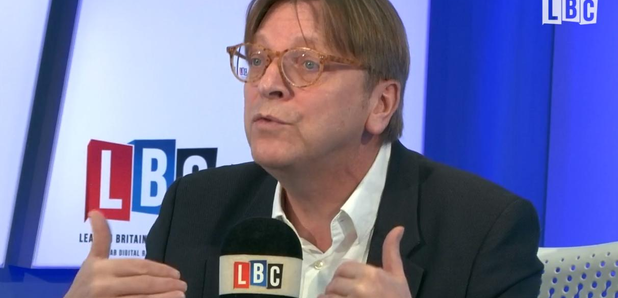 The European Parliament's chief Brexit negotiator has told LBC it would be "suicide" to give Britain a better deal outside the EU than for members inside.
Guy Verhofstadt, who is responsible for negotiating Brexit on behalf of the EU, said that he wouldn't be punishing Britain, but would ensure we did not get a good deal when leaving.
Verhofstadt: Giving UK Better Deal Would Be Suicide
The man in charge of the EU's Brexit negotiations, Guy Verhofstadt, tells LBC that to give Britain a better deal outside the EU than inside would be "suicide".
01:45
Speaking to Matt Frei on LBC, he said: "What we cannot accept is that we create outside the European Union a better status, a better treatment than the members inside the European Union.
"That would be suicide to do so.
"It would be the European taxpayers who are paying the bill for that.
"We will not accept cherry-picking for example. Saying to the UK authorities, 'Oh you go out of all these cooperations, but you can pick and choose your own interesting European programmes.
"That will not be accept by the European side."
Latest on LBC
Comments