CCTV Captures Moment Vandal Slashes $3m Painting In Art Gallery
3 May 2018, 10:40 | Updated: 28 October 2019, 15:21
This is the moment a $3million painting was slashed twice with a knife by a vandal in an art gallery.
Officials in Colorado have charged Nicholas Morley, with 'felony criminal mischief' after a painting belonging to his father, Harold Morley, was vandalised at the Opera Art Gallery in Colorado last May.
CCTV surveillance shows the $3 million piece being slashed twice by a man wearing sunglasses, black jeans, a black jacket, a hat and a full beard.
Aspen Police found records and video surveillance showing that Mr Morley flew from London to Denver under an assumed name the day before the vandalism. He rented a car at the Denver airport then flew back to London two days after the slashing, according to an arrest warrant filed in Pitkin County District Court.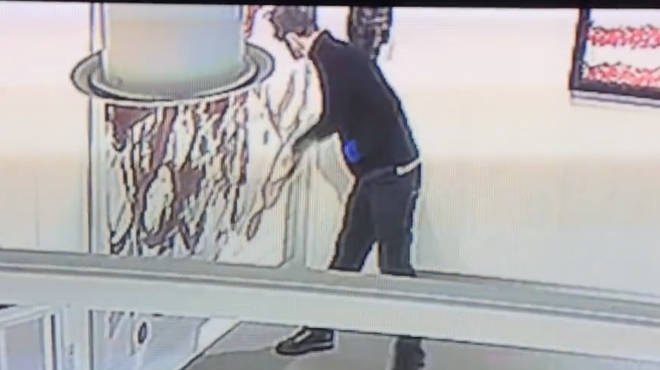 Aspen Police soon discovered the painting was owned by his father, 74, of Barbados, through a trust called Fallowfield Ltd.
A warrant for Morley's arrest has now been issued by a district court judge in the area following an 11-month investigation.