Armed Gang Kidnap And Torture Man For His Rolex
9 December 2017, 15:03 | Updated: 28 October 2019, 15:21
A man was kidnapped, stripped naked, beaten and threatened with a knife, as part of a horrific two-day ordeal, while an armed gang robbed his parents' house.
A gang of armed robbers held a man hostage for two days and tortured him before raiding his parents' home.
The 24-year-old, wearing a £9,000 Rolex watch, was lured to a house by two acquaintances while walking down London Road, Croydon, at 2pm on December 4.
As they approached the address in Thornton Heath he was asked if the gold watch was real.
He was then ambushed by a group of knife and gun-wielding attackers and subjected to a terrifying kidnap, which saw him stripped, tied up, beaten and threatened with a gun, the Met Police said.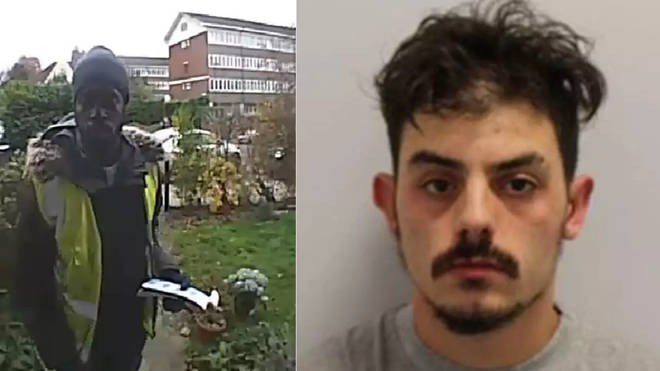 His 50-hour imprisonment saw one kidnapper kick him in the face, leaving him with badly bruised lips and a lump on his forehead.
After his parents could not pay the "significant sum of money" demanded as a ransom for his release, the gang coerced the man into handing over his keys and parents' address.
They burgled the couple's home on December 6. Their entry was captured on CCTV and has now been released by detectives.
Footage shows two men, covering their faces, entering the property.
One suspect, a black man with dark facial hair wearing a high-visibility jacket over a parka, walks to the door and spots the camera.
He returns with an accomplice wearing an orange high-visibility jacket.
The men took a large sum of cash, designer handbags, designer sunglasses and further Rolex watches from the Sydenham property.
On the third evening of the hostage nightmare, the victim was taken by car to a branch of the Metro bank in North End, Croydon to withdraw funds from his bank account.
His captors waited in the vehicle, apparently out of fear of being captured on CCTV, giving the man an opportunity to escape.
When the victim had got out of the car and onto the street he he seized his chance and ran.
He fled to a nearby church, Croydon Minster, and asked for help. The police were called and arrived shortly afterwards, bringing his traumatic ordeal to an end.
Detectives have now released CCTV images and pictures of the "dangerous" men they are hunting.
Two brothers, Ali Dervish, 28, and Sinan Dervish, 19, are wanted in connection with the incident. 
Detective Sergeant Samuel Bennett said: "This was a vicious and prolonged attack of a nature that thankfully is very rare.
"It has left the victim utterly distraught and traumatised.
"We are urgently seeking any information on the individuals involved, who we believe could number up to twelve, but particularly those whose images and details we have released.
"Do you recognise either of the two men shown burgling the house in the CCTV images - or did you see them in Sydenham on the day in question, Wednesday December 6?
"Do you know the whereabouts of Ali or Sinan Dervish?"
Anyone who has been offered a Rolex similar to the one stolen has been urged to come forward.
It is described as a 2007 model with a black face, black bezel and a gold body and strap. 
The detective said: "Any information you have, however small, could prove vital to us as we piece together the events leading up to and following the kidnap. We will treat any information provided in the strictest of confidence.
"These men are dangerous and it is important that we apprehend them before they can target anyone else."
Two men aged 39 and 58 were originally arrested on suspicion of kidnapping on Friday.
They have since been bailed to return to a south London police station in early January.
Anyone with information should call Croydon CID on 101 or tweet @MetCC. Alternatively Crimestoppers can be contacted anonymously on 0800 555 111.
Watch the CCTV at the top of this page.