Motorbike thief pleads guilty after police use car to stop stolen bike
10 February 2020, 05:47
Watch the moment police used 'tactical contact' to knock a "dangerous and reckless" thief off a stolen bike after he failed to stop.
A man who was riding a stolen motorbike whilst disqualified from driving pleaded guilty to six offences after being stopped by police using a car.
When officers chased the bike the rider refused to stop for police motorcycles, the pursuit continued as far as Wood Green High Road.
A marked police vehicle then used "tactical contact" to nudge the rider off the bike.
Scotland Yard said the tactic was successful and the rider then was chased by officers into Wood Green Shopping Centre where he was eventually arrested.
Konna Ward, 21, of Farrant Avenue, Wood Green, Haringey, N22, pleaded guilty to:
-Driving / Riding whilst Disqualified
-Aggravated Vehicle Taking (Aggravated by dangerous driving)
-Possession With intent to supply a controlled Drug of Class B – Cannabis
-Failing to stop for police
-Racially aggravated public order offence
-No insurance
He has been remanded into custody and will be sentenced at a later date.
The guilty plea comes as the Met releases a video titled 'The Life of a Stolen Scooter' – in which officers are authorised to use tactical contact to arrest moped enabled thieves.
The video is part of the Met's 'Lock, chain, cover' campaign which encourages scooter riders to layer up their security to protect their bikes and prevent theft.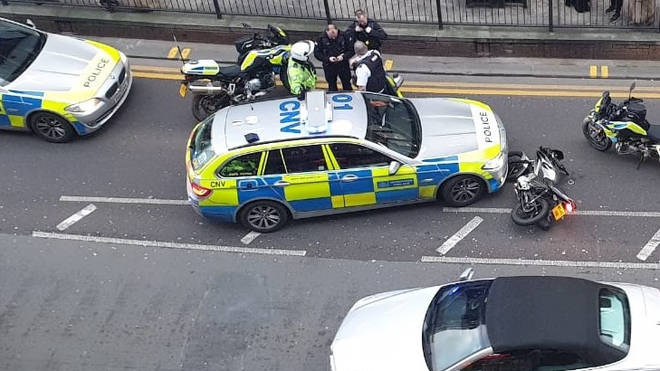 Sergeant Tony McGovern, from the Met's Operation Venice Command, said: "Ward failed to stop for Operation Venice police motorcyclists when they signalled for him to pull over, a pursuit was then authorised.
"Riding their new BMW F750 GS-P bikes, the 'Scorpion' riders were able to stay in contact with Ward whilst coordinating with the Scorpion TPAC cars in order to bring this incident to a safe conclusion.
"The manner of Ward's riding was dangerous and reckless and he showed little regard for members of the public, especially when he rode the stolen motorbike on pavements, cut across roundabouts and rode on the wrong side of the road. It's pure luck that no one was injured."