Black Lives Matter: Man, 24, arrested over toppling of Edward Colston statue
1 July 2020, 20:25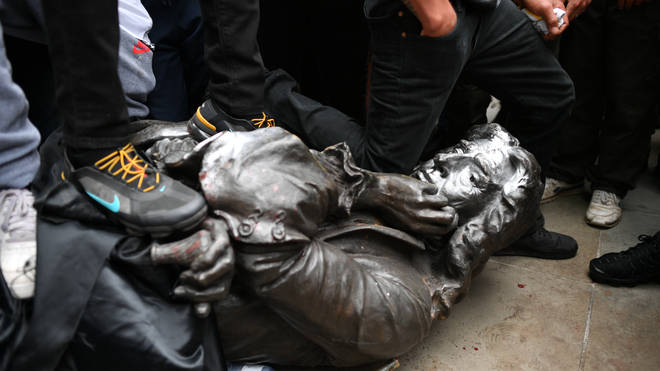 A 24-year-old man has been arrested on suspicion of criminal damage by police investigating the pulling down of a statue of Edward Colston in Bristol in June.
The bronze memorial to the 17th Century slave trader, which has been in the city centre since 1895, was torn down during a Black Lives Matter protest on June 7 and was later dumped into Bristol harbour.
No arrests were made at the time but the force said it would be reviewing footage of a "small group of people" who were filmed pulling down the statue with ropes.
The investigation remains ongoing.
The statue was later removed from the harbour and placed in a "secure location" and will later be placed in a museum.
Marvin Rees, Bristol Mayor, has also announced the his city's true history will now be researched by a new commission, so people can better understand its story.
He said: "The events over the last few days have really highlighted that as a city we all have very different understandings of our past. The only way we can work together on our future is by learning the truth of our beginnings, embracing the facts, and sharing those stories with others. This is why this commission is so important."
 Now the plinth lies empty, there is also the question of what will happen to it. There have been suggestions to replace it with another statue, or have it be used for revolving art projects.
The final decision will be voted on by the city council.
Speaking on the subject at the time of the incident, Labour leader Keir Starmer said the statue should have been "taken down a long, long time ago," although he did not agree in the way in which it was carried out.
He added: "You can't, in 21st century Britain, have a slaver on a statue [...]
"This was a man who was responsible for 100,000 people being moved from Africa to the Caribbean as slaves, including women and children, who were branded on their chests with the name of the company that he ran.
"Of the 100,000 people, 20,000 died en route and they were chucked in the sea."
Read more: Banksy suggests what to do with the toppled Edward Colston statue
READ MORE: Key moments from a weekend of Black Lives Matter protests
READ MORE: 'History has been made' - Bristolians react to toppling of Edward Colston statue
Meanwhile, Boris Johnson's spokesman said the act of pulling it down was an "unacceptable" act, warning that the police "will want to hold to account those responsible".
He added: "The PM absolutely understands the strength of feeling, but in this country we settle our differences democratically and if people wanted the removal of the statue there are democratic routes which can be followed."
Anyone with information is asked to contact the force on 101, providing the reference number 5220123926, or anonymously via the charity Crimestoppers.