Brave Shopkeeper Fights Off Robber Who Held Knife To His Throat In Failed Raid
11 May 2018, 15:49 | Updated: 28 October 2019, 15:21
Warning: This video contains disturbing footage.
A brave shopkeeper managed to fight off a robber who held a knife to his throat during a failed raid at his newsagents.
Jac Burrows pulled a blade out as he tried to steal cash from the till at the family-run shop in Lowestoft, Suffolk on 21 March 2018.
Chilling CCTV shows the 23-year-old holding a knife at the victim's neck as the pair became embroiled in a struggle.
The offender managed to grab the till and run into the street, but was wrestled to the ground by the shopkeeper and a member of the public until police arrived.
Miraculously nobody was hurt in the raid, which was one of two committed by Burrows, of Stoven Close, back in March.
The 23-year-old pleaded guilty to robbery and possession of a knife in a public place.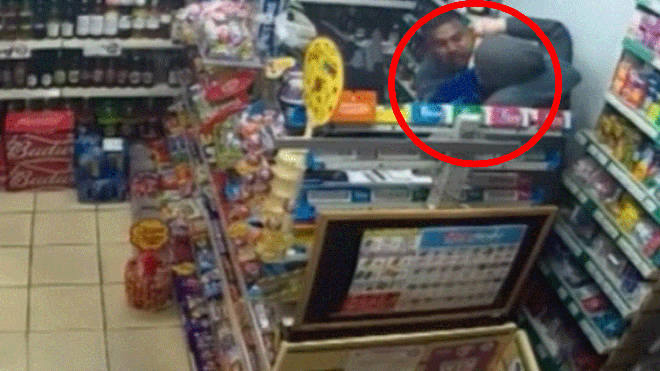 He was jailed for four-and-a-half-years on Thursday at Norwich Crown Court.
Detective Inspector Matthew Adams said: "This was a violent sustained robbery against a shop worker on his premises.
"It is very fortunate that nobody was injured during the incident. I would like to praise the victim and members of the public who were able to restrain the offender until officers arrived.
"I hope that the significant sentence handed down today underlines our message that violent offences involving weapons will not be tolerated and we are determined that offenders will be put before the courts."