'Utterly vile scenes' after Brixton party chaos with police attacked and threatened with sword
25 June 2020, 08:02 | Updated: 25 June 2020, 11:49
Brixton was the scene of violent chaos on Wednesday night after 22 police officers were injured and several emergency service vehicles damaged while attempting to break up a party which spiralled out of control.
Scotland Yard said twenty-two police officers were left injured and four people arrested after the "unlicensed" music event descended into violence.
Footage on social media shows a number of police vehicles being smashed and officers chased during clashes with a large crowd near the Angell Town estate in Brixton.
A Met Police spokesperson said a small number of police vehicles were damaged and two of the injured officers were hospitalised.
Chief Superintendent Colin Wingrove also said there was a "disturbance in the front office of Brixton Police Station" the senior officer said three males assaulted another and one was "found to have several stab wounds to the back."  
"First aid was administered to the male and 4 persons arrested."
The incidents above are under constant review and extra resources will be deployed to the area if required.
Four arrests were made for assault and public order offences, officers issued a Section 35 dispersal notice for the area "after a large group of 100+ people gathered in the middle of the park with music equipment at approximately 16:00 hours on 24th June 2020."
Officers later seized the music equipment.
In one clip, a person can be saying: "They have run the police out of here." 
One witness tweeted: "Only in Brixton, you'll see feds getting run out of the area."
A police helicopter was reportedly circling the area for several hours.
One video shows a topless man jumping on a police car, appearing to be cheered on by the crowd.
Home Secretary Priti Patel has described the events in Brixton as "utterly vile scenes" after the Metropolitan Police confirmed officers were injured.
"These are utterly vile scenes," Ms Patel tweeted.
"Just last weekend, the whole country came together to praise our heroic police officers for putting their own lives on the line to keep us safe.
"I'll be picking up with the Met Commissioner immediately."
London's Mayor Sadiq Khan branded the violence "completely unacceptable" and said he was in touch with the Met about the incident.
He added: "Violence against the police will not be tolerated.
"Large gatherings during Covid-19 are deeply irresponsible and risk others' lives."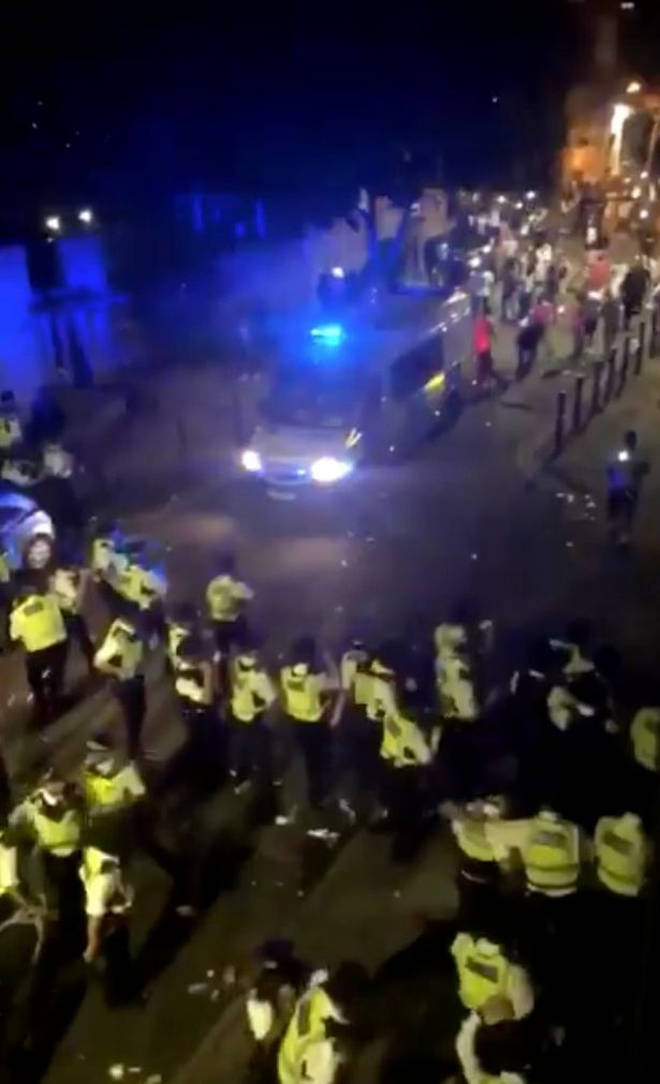 The police commander for the area, Colin Wingrove said: "Our role is to protect the public and ensure guidelines are adhered to in order to prevent the spread of Covid-19 protecting the NHS and save lives
"Our officers work incredibly hard to engage and explain the public health message and regulations to prevent such gatherings occurring.
"Last night we received numerous concerns from residents complaining about a large gathering, noise, anti-social behaviour and violence and officers responded to those concerns.
"These gatherings are unlawful, as well as posing a risk to public health and against coronavirus restrictions.
"The violence shown towards officers is totally unacceptable and we will not tolerate it in any form.
"An investigation into the incident is now taking place and those involved will be brought to justice."
Warning: The following contains bad language.
However, the night quickly descended into chaos with a video showing dozens of revellers running and screaming.
Videos from the evening showed lines of police being attacked with partygoers hurling objects at them.
In one video, a man can be heard yelling at a line of police officers to "back up" as he confronts them with what appears to be a sword.
The Met Police have indicated that the 15 officers did not suffer serious injuries.
LBC News has contacted the Met Police for comment