Bungling Thieves Try To Steal Display Of Phones, But Don't Realise They're Dummy Devices
13 November 2017, 14:24 | Updated: 28 October 2019, 15:21
Police are on the hunt for two bungling thieves who were filmed trying to steal a display of mobile phones, without realising they were all dummy devices.
The footage shows the men, who made no attempt to cover their faces, try to pull down the display at a Carphone Warehouse in front of shocked onlookers.
But, unbeknown to the pair the unit, which was full of demo phones and tablets, was attached to a strong cord that wouldn't give way.
The red-faced thieves were subsequently forced to flee the Solihull store making off just one phone, reportedly worth £10.
Detectives say they are now investigating the raid, which took place at about 4pm on Friday.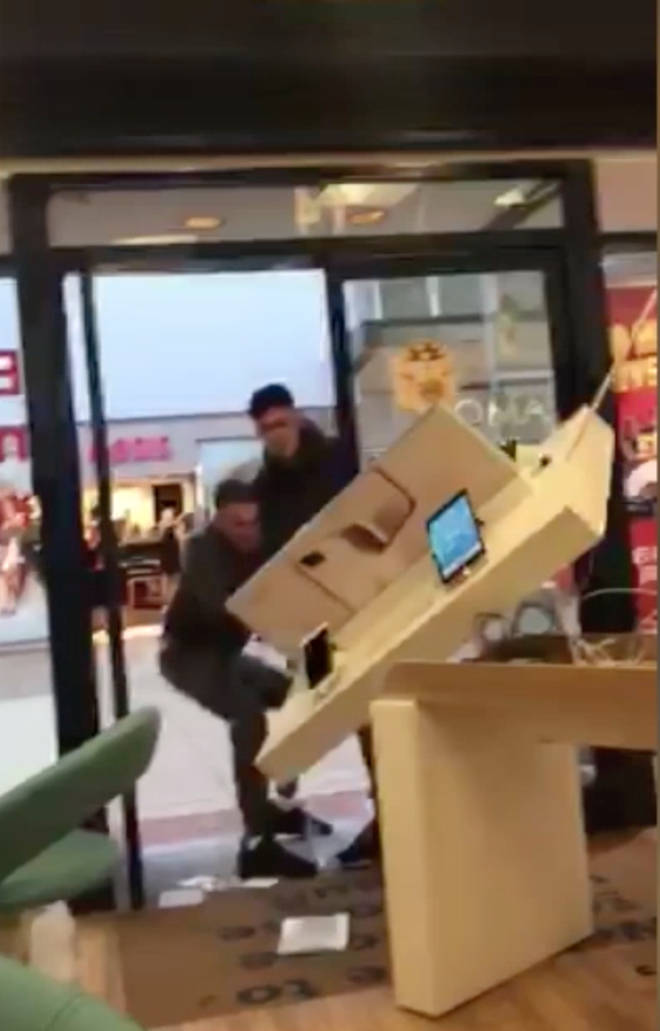 One witness, who filmed the footage and did not want to be named, said: "Nobody else was in the shop apart from me and the workers, so it was quiet.
"A young lad came in first, asking for a phone, and then more people came in to rob the shop.
"They were there for about 30 seconds, if that. It was a quick thing.
"What they didn't realise was that they were all demo phones, so they won't have been much use anyway.
"And they managed to get hold of a Nokia, a £10 one. The police were called straight away by the shop."
A spokesperson for West Midlands Police said: "Police were called to Carphone Warehouse in Touchwood Shopping centre just after 4pm on Friday 10 November to reports of a theft.
"It's understood four men entered the store and threatened a member of staff. Two display phones were taken.
"Enquiries are on-going and anyone with information can call West Midlands Police on 101 quoting crime number 20SH/242612P/17."