Police hunt man who hurled bike and threatened to stab bus driver
20 November 2019, 16:03
Police are hunting for a man who attacked a bus driver with a bike and threatened to stab him on a London bus.
The man threatened the bus driver after starting an argument with him as he boards.
The suspect got on the number 48 bus on Bishopsgate an August 19 just after 3PM.
CCTV footage shows the man, who is the first person to board the bus, say something to the bus driver and violently gesture towards him.
He is then seen ripping off a piece of the screen from the driver's booth in a fit of rage and moving it in a stabbing motion before hurling it towards him.
Moments later, he returns with a bike and throws it towards the booth in front of multiple terrified passengers.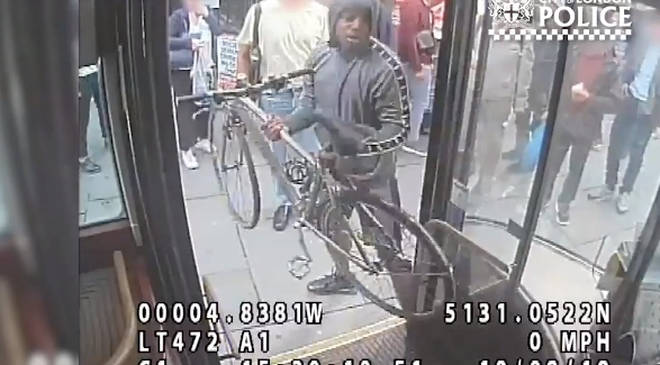 PC Sam Lowe, from the City of London Police, said: "This was a terrifying and violent incident which happened in the middle of the day, with many witnesses around.
"Thankfully, the bus driver was physically unhurt, but it was obviously traumatic for someone to be subjected to this level of abuse and violence while at work.
"We would encourage anyone who saw this incident, or who has information about the identity of this dangerous individual, to get in touch with us."
Anyone with information can contact the City of London Police by calling 101 or via email, quoting reference number 19*440507. Alternatively you can contact the independent charity Crimestoppers, anonymously, via their website or by calling 0800 555 111.