Man Filmed In Furious Four-Letter Rant At Paramedic For Blocking Road
14 November 2017, 07:24 | Updated: 28 October 2019, 15:21
WARNING: Contains very strong language
This is the moment a man launched an angry tirade at a paramedic who was trying to save someone's life - because they were blocking the road.
Colin Anderson got out of his white van and lost his cool as he swore at a female paramedic in Runcorn.
The paramedic tells him, "Someone is ill upstairs," but he responds: "How do we know? God almighty. Where are the f***ing hazards or the blue lights?"
He then calls the paramedic a "f***ing idiot" and a "f***ing d******". She joins the slanging match and calls him an 'idiot', before he gets in his van and drives off.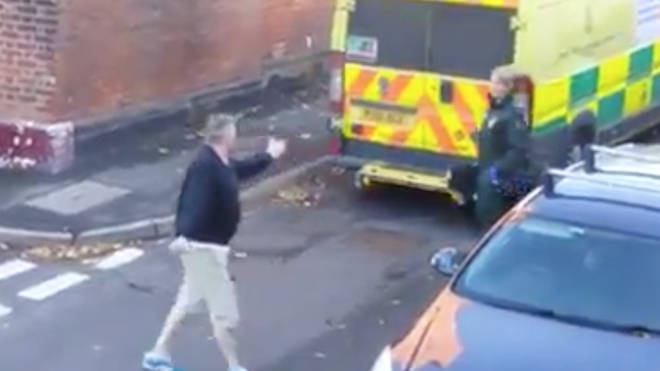 Ami Garner, who filmed the shocking incident, wrote on Facebook: "So this is the abuse our paramedics face for parking in the street whilst saving a life!"
Mr Anderson has since apologised: "My use of language was not acceptable and I understand and apologise for this.
"The NHS do an amazing job and I have never faulted them in any way. I have the upmost respect for them and I understand the need to park where she did - I just wish that I hadn't reacted in the way I had."
A spokesman for Cheshire Police said: "Shortly before 5pm on Sunday 12 October officers received reports of an incident on Union Street, Runcorn , involving an ambulance.
"The incident is currently being investigated and enquiries are on-going."