Moment Mum On The Run Crashes And Attempts To Carjack While Carrying Baby
3 September 2018, 12:19 | Updated: 28 October 2019, 15:21
Dramatic helicopter footage captures the shocking moment a mother crashes her car and attempts to carjack while on the run with her baby.
A mother was filmed driving at speed between cars as she tried to escape a police pursuit.
In her determination to get away, she continued even after the front tyres of her cars were burst by a stinger device deployed by police.
Shocking helicopter footage shows the black 4x4 skidding off the road as it overtook another car before driving towards oncoming traffic.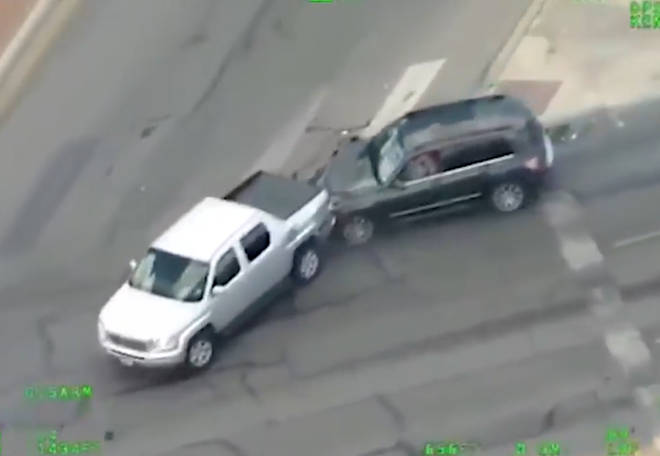 The driver was filmed driving at speed undertaking four lanes of traffic and through a red light without a front left tyre, before crashing into the back of a silver pickup.
The mother leaps out of the car and to the back door where she stopped to pick up a baby in a car seat.
After running across the road, the mother attempts to steal a white 4x4 to continue her getaway but officers pulled her from the vehicle.
The video also shows the owner of the car rushing round to the back seats to rescue her own child.