'Long-serving' sergeant shot dead at Croydon police station
25 September 2020, 08:47 | Updated: 25 September 2020, 21:00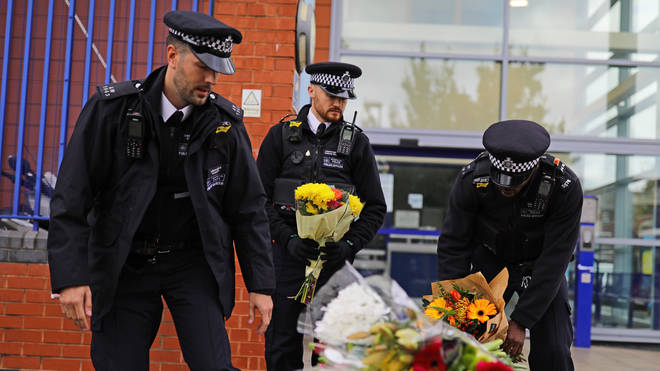 A "long-serving" Metropolitan Police sergeant was fatally shot by a suspect who had his hands handcuffed behind his back whilst in a station, investigators have said.
New Zealand-born Sgt Matt Ratana was a keen rugby player, who has been described as an "inspiration" who was popular and well-liked by his colleagues.
He died after being shot in the chest inside Croydon Custody Centre, and was only two months away from retirement.
A 23-year old suspect had been brought into the centre after being arrested for possession of Class B drugs with intent to supply and possession of ammunition and was seated in a holding area.
He was handcuffed to the rear, investigators said, while officers prepared to search him using a metal detector.
Shots were then fired, leaving the police officer dead and the suspect in critical condition in hospital with a gunshot wound.
Initial enquiries have suggested he turned the gun on himself during the incident shortly after 2am this morning.
The firearm was a non-police issue revolver.
The shooting happened at the Croydon Custody Centre in Windmill Lane. The officer was treated at the scene by officers and paramedics and he was rushed to hospital by the London Ambulance Service where despite best efforts by medics he could not be saved.
Paying tribute to her fallen colleague, Ms Dick said the force was "mourning a great loss" and a murder probe has been launched into the incident.
She added: "The Met is a family. Policing is a family in London and across the United Kingdom.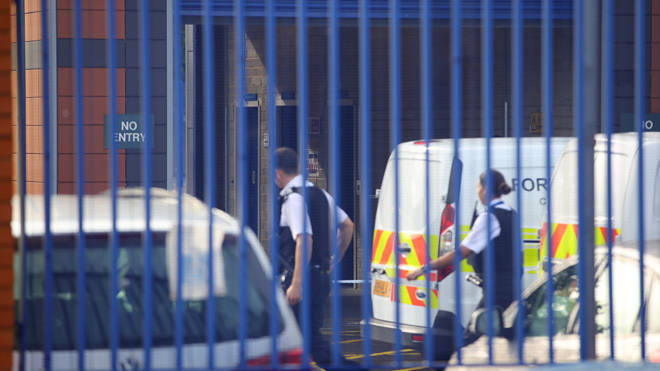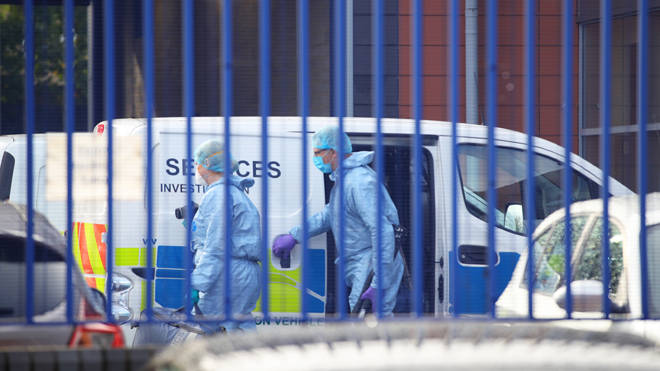 "Today, we police are all mourning a great loss. I would like to thank our officers and the staff, together with colleagues from the London Ambulance Service, the London air ambulance and all our medical and hospital colleagues who I know did everything they could to save his life.
"A murder investigation is under way and officers are working at several crime scenes to secure evidence and to establish the facts of what happened. We are working closely with the Independent Office for Police Conduct.
"Early indications are that the suspect shot himself. This has not yet, of course, been established as a fact. The man, I can tell you, remains in a critical condition in hospital.
"I do understand that there is considerable interest in the identity of my colleague but I cannot tell you yet his name, as we have not yet been able to inform all of his close family.
"The investigations will establish the full facts of what has happened and I would ask you as far as is possible to show restraint in speculation at this time.
"This terrible incident underlines again how police officers face danger every single day, 24/7, 365, in their work to protect our public. Thank you all for your thoughts and I will issue more information when I can later today."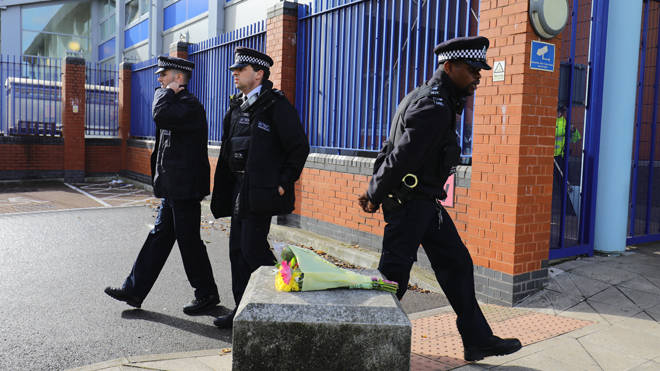 Lissie Harper, the widow of Pc Andrew Harper who was killed on duty last year, said in a statement: "This is devastating news. No person should go to work never to return. No human being should be stripped of their life in a barbaric act of crime.
"Another hero has been taken from us in unwarranted violence.
"They protect us but who protects them? Another life is gone in a disgraceful act that reminds us of the danger our police officers face with every shift they begin.
"My heart is broken for yet another member of our blue line family, and all of his family, friends and colleagues who must now accept a life without him in it.
"My thoughts and love are resolutely with them."
Prime Minister Boris Johnson said: "My deepest condolences go to the family, friends and colleagues of the police officer who was killed in Croydon last night.
"We owe a huge debt to those who risk their own lives to keep us safe."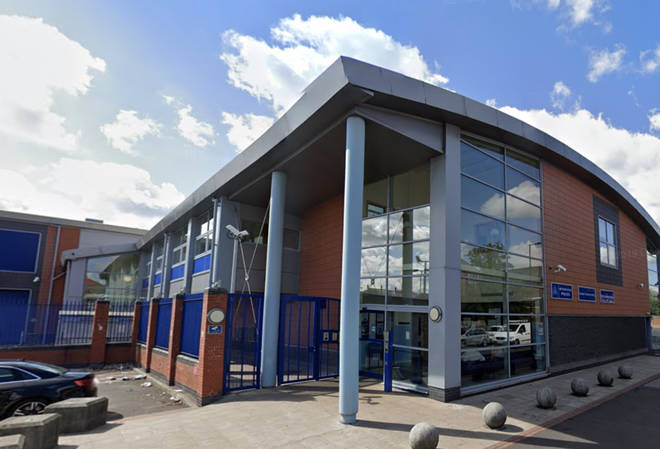 London Mayor Sadiq Khan said: "I am devastated by the news a Metropolitan Police officer has lost his life.
"I was informed of this tragic incident by the Commissioner this morning, and my heart goes out to the family of this brave officer, who has paid the ultimate price for helping to keep Londoners safe.
"My thoughts are also with his loved ones, friends and the entire Metropolitan Police family, who I know will be deeply mourning their colleague at this extremely difficult time.
"Tragic incidents like this are terrible reminders of the dangers our police officers face every single day they go into work to keep Londoners safe.
"They are the very best of us, and I remain in close contact with the Commissioner to offer her and the Met my ongoing support."
Croydon officers posted in tribute: "Today we lost an honorable, brave and dedicated family member. Our hearts are with the officers immediate family at this time following this devastating loss."
John Apter, National Chair of the Police Federation of England and Wales said: "This is utterly devastating and heartbreaking news that a colleague from the Metropolitan Police has been shot and killed.
"Our thoughts are with the officer's family, friends and colleagues at this most terrible time. 
"Policing is a family and when we lose one of our own in such a devastating way it effects us all. The dangers police officers face every day are very real and sadly, as we have seen can result in officers making the ultimate sacrifice. 
"There will now be an investigation and therefore it would be wrong to say any more at this time or to speculate, other than to say that our hearts are with the family of our officer who has been killed and all involved in this horrific incident."
Former Deputy Assistant Commissioner Rod Jarman told LBC: "We expect officers to be extremely brave and to act with the minimum of force possible.
"Everything is as proportionate as possible. If a person is acting very violently they will probably be searched in great detail. If someone is compliant there will probably be a less invasive search.
"Officers take a personal risk in order to protect society.
"I'm sure there will have been some sort of search. People tend to think every search finds everything and it doesn't. If a gun is well concealed, some guns are surprisingly small."
Home Secretary Priti Patel said in a statement: "I am deeply shocked and saddened to learn that a Metropolitan Police Officer has been shot and killed in the line of duty.
"My thoughts today are with his family, friends and policing colleagues in London and across the country."