Riot police called in to tackle 'frightening and shocking' fireworks disturbance in Leeds
6 November 2019, 07:01
Riot police were called in and a helicopter was scrambled after large-scale Bonfire Night disturbance involving a group of youths in Leeds last night.
West Yorkshire Police say they were called to investigate reports of disorder and anti-social behaviour in the Harehills Road area of the city around 8.20pm.
Officers said groups of youths were hurling fireworks and other missiles, while also setting fire to rubbish bins.
With a police helicopter called in to assist, police vehicles were damaged and several arrests were made as the crowd dispersed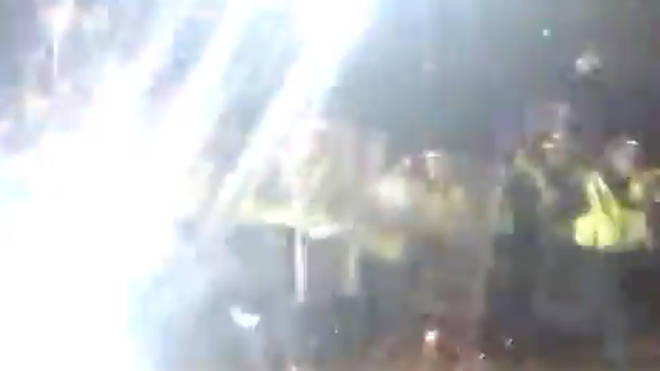 Local residents described their shock on social media with one describing the scene as "absolute madness."
Gosh I keep on taking this tweet down but it needs to stay here. It's absolute madness on Harehills Road. Literally hundreds of young people, it's like they are rioting. They threw chairs and other furniture in front of my car and I had to drive on the silly island to get through

— kaneezkhan3 (@kaneezkhan31) November 5, 2019
Locals described the scene as "frightening and shocking" saying she would hear cheering and shouting from youths.
I think its moved further down Harehills Road now. Riot police are still on my street and helicopter still out but crowd seem to have moved on. Can still hear shouting and cheering from them. Its frightening and shocking.

— Miss Amana (@MissFlutterFly) November 6, 2019
Jonathan Lawrence said he had "never been this scared in my life."
I can tell you it's no picnic for the residents. I've never been this scared in my life, it feels like the rioters, or the trouble makers or whatever they are have taken over Harehills Road, and no one's here to do anything about it, the police left.

— Jonathan Lawrence (@jl_legend) November 5, 2019
West Yorkshire Police, Chief Superintendent Damien Miller said:
"In conjunction with our partner agencies, we have prepared for all possible eventualities over the bonfire period.
"We made it clear from the outset that any instances of disorder or antisocial behaviour would not be tolerated and we were able to quickly respond.
"Those individuals that engage in such behaviour are within the minority and do not represent the wider community.
"We will continue to provide reassurance in the local area with high visibility patrols."