The Moment Have-A-Go Hero Trips Thug As He Escapes From Police
31 December 2017, 11:48 | Updated: 28 October 2019, 15:21
This is the moment a brave woman tripped a thug who was running away from police on New Year's Eve.
Police are trying to find the woman who brought the sprinting hooligan to the ground after he had pushed away a police constable.
That allowed officers to swarm in and arrest him.
Her remarkable bravery happened in Hertford City centre at 10.30pm on Christmas Eve, but she had left the scene by the time police went to thank her.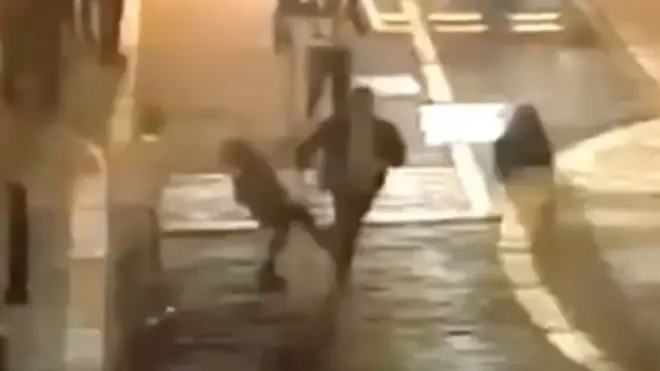 East Herts Chief Inspector Gerry McDonald said: "I would like to praise the woman's efforts in apprehending the suspect – her initiative allowed my officers to capture the suspect and quickly arrest him.
"By the time the officers had detained him and transferred him to a police vehicle, the member of the public had left the scene so they did not get chance to say thank you.
"If it was you, or you know the identity of this person, please call 101 and ask to be put in touch with me as I would like to personally thank her for what she has done."
Aaron Cadman, 23, has been charged with possession of cocaine, assault on a police constable and being drunk and disorderly in a public place. He has been released on bail.