Tube Horror As Group Of Women Stamp On Man In Violent Attack At Leicester Square
25 June 2018, 15:05 | Updated: 28 October 2019, 15:21
A violent video has emerged showing the moment four women punched and kicked a man to the floor at Leicester Square Tube station.
TfL staff could be seen trying to restrain the women as they repeatedly lashed out in the early hours of Sunday morning.
The British Transport Police (BTP) said four women were arrested at the scene but have since been released under investigation.
The video shows the group beating the man to the floor before stamping on him as horrified onlookers screamed in panic.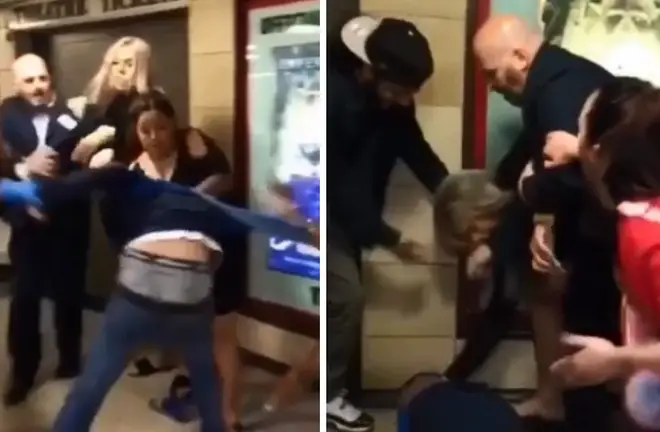 The man could be seen lying seemingly unconscious on the floor as one woman tells another: "no more, no more, enough, no more".
He suffered a broken eye socket and cuts to the face and was later taken to hospital, police said.
It's not clear what sparked the incident, but the four women were arrested at the scene.
A BTP spokesman said: "The women – a 26-year-old from Romford, a 22-year-old from Dagenham and two other 22-year-olds of no fixed address – were arrested at the scene on suspicion of causing actual bodily harm, violent disorder and affray.
"During their arrest, two police officers were also assaulted and one of the 22-year-olds was further arrested on suspicion of assaulting them.
"All four have since been released under investigation while enquiries continue."