Voyeur admits to upskirting schoolgirls as young as 11 in Sainsbury's
7 February 2020, 20:36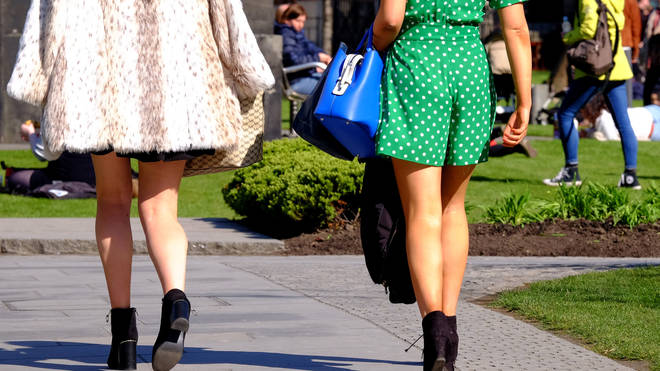 A man has admitted to upskirting schoolgirls as young as 11 on their lunch breaks at a Sainsbury's in Wales.
The 33-year-old Lewis Taylor, from Ponthir Road, Newport, was handed a community order for taking 14 photos and two videos from beneath the skirts of schoolgirls.
His offences occurred at a Sainsbury's store in Caerleon from October to December last year.
Witnesses saw the voyeur crouching down near groups of girls aged between 11 and 16, with his phone pointing up between their legs.
The girls were said to be unaware they were having the intrusive photos taken of them, prosecuting Lisa McCormick said, except for a 14-year-old who complained to the police.
Ms McCormick added that staff at the Sainsbury's began noticing Taylor hanging around groups of girls in uniforms during the school lunch break.
The store's manager then alerted police on the final occasion on 16 December last year.
Ms McCormick said: "Staff became aware of his attending the shop at lunchtime and placing his phone beneath the skirts of schoolgirls and appeared to be recording or taking photos at the time.
"On the final occasion, he was seen by the manager upskirting and consequently police were called.
"A staff member stood near him under the guise of working on his iPad with the view of distracting him from his clear endeavour.
"But it didn't. He was loitering at the sandwich aisle where a number of girls were in school uniform.
"He mingled with them then crouched to the ground with his phone in hand and, we know because it was discovered upon examination of the phone, he was in fact recording video. There were two videos and both lasted a minute."
A member of staff confronted Taylor before the police arrived. He promptly left the store, but not before someone recorded his car registration number.
Officers later arrested him at home, finding two videos and 18 upskirting pictures. Four of those were images snapped from under the dresses of women.
Taylor pleaded guilty to 20 voyeurism offences, including 18 counts of operating a mobile phone beneath the clothing of another person, and two counts of recording an image beneath the clothing of another person.
James Evans, defending Taylor, said his client had been going "through a particularly difficult time" and that his actions were out of character.
He said: "It's clear he wasn't himself during that period.
"This has had very significant repercussions for him. His employment, relationship and home have been lost."
The judge, Christopher Vosper QC, said the public would be "better protected" by giving the voyeur a community order, rather than jail.
His sentence involves reporting to the police under a three-year community order, undergoing a 30-day rehabilitation course, partaking in the Horizon programme for sex offenders, and 150 hours of unpaid work.
Taylor must also register as a sex offender for five years and notify the police of his address.
The judge said: "Targeting schoolgirls is a very serious aggravating feature in this case.
"I take the view it is in long-run better for the public and you that something is done with you to try and prevent this type of offending."
The introduction of the Voyeurism (Offences) Act in England and Wales in April 2019 allows upskirting to be treated as a sexual offence. It also ensures the most serious lawbreakers are placed on the sex offenders register.