Body-Worn Footage Shows Dramatic Moment Westminster Terror Plotter Was Arrested
27 June 2018, 10:27 | Updated: 28 October 2019, 15:21
Body-worn video footage has been released showing the dramatic moment a knife-wielding man was taken down by armed police near Parliament.
Yesterday, Khalid Ali was convicted of planning a terror attack in Westminster and making bombs for the Taliban.
The 28-year-old plumber was arrested at the Parliament Street junction on 27th April last year, four weeks after Khalid Masood killed five people on Westminster Bridge.
When surrounded by armed officers, Ali put his hands in the air and dropped to the pavement. He is then told he was arrested on suspicion of terrorism.
An officer asked him if he had anything on him that would cause harm, and the defendant replied: "You'll see."
He was seen to be bleeding from a cut on his hand as an officer wearing forensic gloves searched his pockets and clothes.
During the search, officers found three knives in pockets and Ali was further arrested for having a bladed article.
An officer told his colleagues: "Let's make absolutely sure he has not got anything else before we put him in the car."
While in custody, Ali's clothes were taken away and he was found to have a small cut in the front of his underwear where the largest of the three knives was found, jurors heard.
His DNA was on all three blades, said prosecutor Alison Morgan.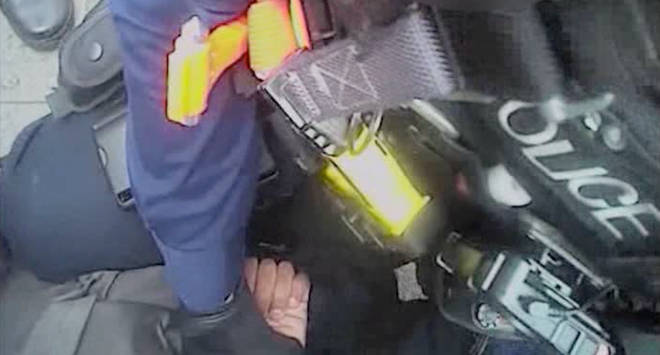 The court hear that Ali armed himself that day to deliver a "message" to British decision-makers and planned an attack in the UK after spending five years making bombs with the Taliban in Afghanistan.
He carried out "hostile reconnaissance" around Downing Street, New Scotland Yard, the Ministry of Defence, the MI6 building and the Cenotaph on March 18 and April 22 last year, the court has heard.
An Old Bailey jury convicted Ali of preparing an act of terrorism in the UK and two counts of possessing an explosive substance with intent.
He will be sentenced on 20 July.