Labour MP Fights Back Tears Over Anti-Semitism Comments
28 September 2016, 15:07 | Updated: 28 September 2016, 15:42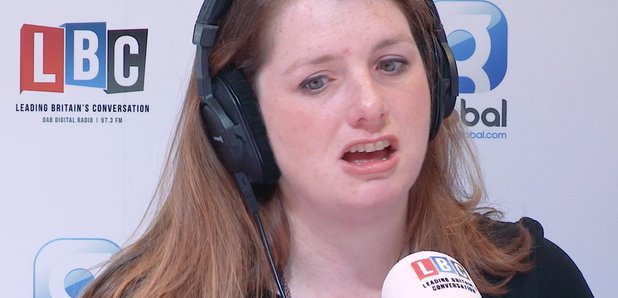 Labour MP Alison McGovern fought back tears as she listened to a party activist claim that Jewish MP Ruth Smeeth was part of a conspiracy against Jeremy Corbyn.
Our political editor Theo Usherwood was at a Momentum rally in Liverpool when he interviewed Naomi Wimborne-Idrissi. She's a leading figure in the Chingford branch of the Labour party, who claimed that MP Ruth Smeeth had left the launch of the inquiry into anti-Semitism in Labour as part of a conspiracy against Jeremy Corbyn.
"Ruth Smeeth is one of those people who is against Jeremy Corbyn's socialist vision...she participated in an attempt to undermine the launch of a really important report about racism," claimed Wimborne-Idrissi. "Did anybody know about racism after the release of that report? No they didn't. All they knew was that an angry Jewish MP had run out of the room."
Wimborne-Idrissi, of Jewish origin herself and a friend of Jackie Walker, also accused MP Louise Ellmann of being part of a plot against Jeremy Corbyn. Mr Corbyn today described anti-Semitism as "an evil" that must "never be allowed to fester" in Labour.
In the video above, you can see what happened when we played those comments back to MPs Alison McGovern and Wes Streeting. Visibly shocked at the accusations against Smeeth, they repeatedly shake their heads.
Then McGovern gives her very emotional reaction to Wimborn-Idrissi, vice-chair of the Chingford brand of the Chingford and Woodford Green CLP.
McGovern told Iain Dale: "Louise is my colleague here on Merseyside. She's been a Labour MP in Liverpool since I was not much older than a teenager.
"She's given more to this city...she's given so much to all people in this city.
"I just hate to hear people who I feel have given a massive amount to the Labour movement...to hear them denegrated I find it quite hurtful.
"Louise is a brilliant person and what she's putting up with at the moment is just too much."
Last night, at a fringe event aimed at tackling anti-Semitism, Momentum vice-chair Jackie Walker drew criticism when she appeared to criticise Holocaust Memorial Day.