Second EU Referendum Petition Hits Target
24 June 2016, 12:59 | Updated: 26 April 2018, 15:40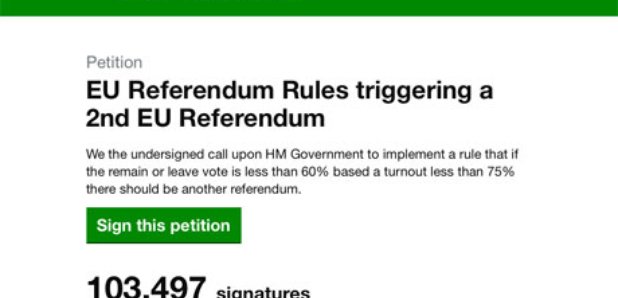 Friday 24th June 2016
A petition calling for a second EU referendum has hit the crucial 100,000 signatures barrier, meaning it must be considered for debate in Parliament.
Thousands have signed the petition, started by William Oliver Healey, calling on the government to hold a second referendum.
"We the undersigned call upon HM Government to implement a rule that if the remain or leave vote is less than 60% based a turnout less than 75% there should be another referendum," the petition says.
It's unlikely that the petition will be successful given the huge stakes at play in Thursday's vote, that concluded by putting Britain on the path to an exit from the EU.

Another petition has been started calling for London's independence, after the capital resoundingly voted to remain in the EU, only to be trumped by leave votes in England and Wales.

James O'Malley who started the petition said; "Let's face it - the rest of the country disagrees. So rather than passive aggressively vote against each other at every election, let's make the divorce official and move in with our friends on the continent."