Test, track and trace: How does the NHSX coronavirus app work?
5 May 2020, 07:08 | Updated: 5 May 2020, 07:17
The Government is introducing contact tracing at "large scale" as a way of easing Covid-19 lockdown restrictions. So what is contact tracing and how does it work?
One measure many countries have introduced to deal with the coronavirus pandemic is a new NHS app, which has started trials on the Isle of Wight this week.
The new NHSX app is part of the Government's test, track and trace strategy and will be central to its efforts in slowing the spread of coronavirus.
Should the contact tracing work it would potentially allow more targeted quarantine measures than the current blanket lockdown.
But what exactly is contact tracing, and how can it help society battle the Coronavirus-19 pandemic?
Read more: What are the new rules of the coronavirus lockdown in the UK?
Here's everything you need to know about contact tracing.
What is contact tracing?
The US Centres for Disease Control, see contact tracing as part of the process of supporting patients with suspected or confirmed infection.
The technique is used to help find people who may have been in contact with those who are infected to help track the illness.
Contact tracing is a "cornerstone" of preventative medicine, says Dr Laura Breeher, medical director of occupational health services at the Mayo Clinic. "Contact tracing, it's having a moment of glory right now with COVID because of the crucial importance of identifying those individuals who have been exposed quickly and isolating or quarantining them," she said.
How does contact tracing work?
Public health officials use trained staff to interview a patient to help them recall everyone with who they have had close contact during the timeframe while they may have been infectious.
Once a contact has been traced public health staff then warn the exposed individuals that they could be exposed to the virus, in this case, Covid-19.
The CDC says to protect patient privacy, contacts are only informed that they may have been exposed to a patient with the infection. They are not told the identity of the patient who may have exposed them.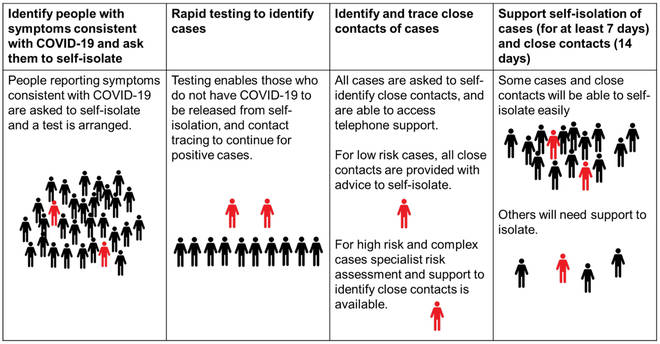 How will the NHSX contract tracing app work?
Transport Secretary Grant Shapps has described smartphone apps for tracing the spread of coronavirus as the "best possible way to help the NHS" as a pilot programme begins in England.
The NHSX app is being trialled on the Isle of Wight this week as part of the Government's test, track and trace strategy and will be central to its efforts in slowing the spread of coronavirus.
Contact tracing has been used extensively in South Korea, Hong Kong and Germany, where outbreaks have been contained more quickly.
It will be downloaded on to smartphones and use bluetooth technology to work out when other app users are in close enough proximity to potentially spread the virus.
The data is recorded under an anonymous ID, rather than by the person's name.
If and when someone starts showing symptoms, or tests positive for Covid-19, they are able to share that on the app.
The app then sends a notification warning of possible infection to all those phone users to have come in requisite proximity recently.
Mr Shapps told Sky News: "The idea is that we will encourage as many people to take this up as possible. This is going to be a huge national effort and we need, for this to work, 50% to 60% of people to be using this app.
"Not everybody has a smartphone and I appreciate that for various reasons not everybody will download it but it will be the best possible way to help the NHS."
He stressed the app will be completely confidential.
When will the UK contact tracing app be available?
The NHSX app will be trialled on the Isle of Wight this week before being rolled out more widely later this month, the Government has announced.
Transport Secretary Grant Shapps said around 50% to 60% of people will need to use the software for it to be effective as he described it as the "best possible way to help the NHS".

What about privacy concerns?
Asked about privacy concerns surrounding the app's future roll-out, First Secretary of State Dominic Raab said the Government was trying to "innovate the best we can to try and ease our way out of the next phase of this virus in a way that protects public health and also allows us to go back to an economic and social life as close to normal as possible".
He added: "I think people do understand that we're in an exceptional crisis and we need to take measures which we probably wouldn't think of doing if we weren't in this crisis."
Listen & subscribe: Global Player | Apple Podcasts | Google Podcasts | Spotify