Coronavirus: Who will get the Pfizer/BioNTech vaccine first in the UK?
8 December 2020, 09:01 | Updated: 8 December 2020, 09:04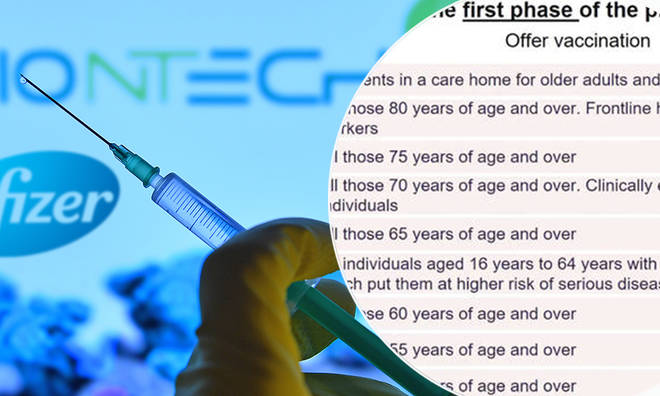 With the rollout of the Pfizer/BioNtech vaccine under way in the UK, who is first on the priority list?
The NHS has become the first health service in the world to initiate a Covid-19 mass vaccination programme for a clinically approved jab.
The first person to receive the Pfizer/BioNTech vaccine outside a trial was a 90-year-old grandmother, marking the start of a phased rollout in the UK.
People aged 80 and over, care home workers and NHS workers who are at higher risk will be the first to receive the vaccine.
Scientists confirmed last week people will get the vaccine in this order:
1) Residents in care homes and those working in care homes
2) Anyone 80 and above and front line social care and healthcare workers
3) Anyone over 35 who is clinically vulnerable and anyone aged 70 and above
4) Anyone aged over 65
5) Individuals aged 16-64 with underlying health conditions
6) It will then go down the age groups until everyone aged 50 and above is included
It is hoped that 90 to 98% of people most at risk of dying from Covid-19 will be covered by the end of the vaccination priority list programme.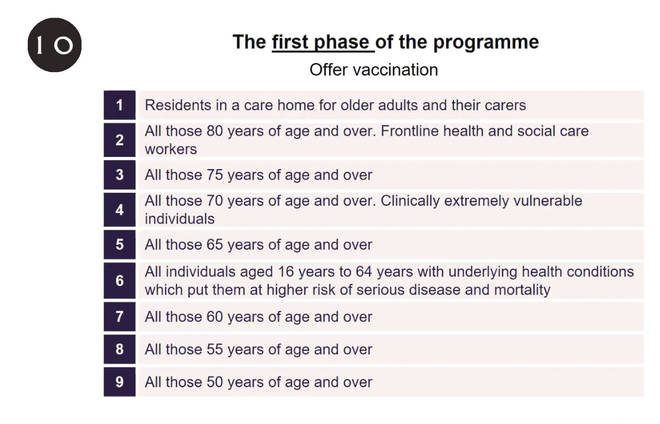 Chris Hopson, chief executive of NHS Providers, has said people over 80 should not be worried if they do not receive a call or a letter about a vaccine this week, adding that the vast majority will not be vaccinated until early 2021.
He said he expects there will be communications in the coming weeks telling people how quickly medical teams are getting through those who are over 80.
And although people in care homes are at the top of the priority list, it has been noted that there are challenges with getting the jab to them.
The Pfizer/BioNTech vaccine needs to be stored at -70C before being thawed out and can only be moved four times within that cold chain before being used.
The vaccine boxes containing 975 doses will need to be split so they can be taken to care homes.
It is expected this will get going in about a week and will be led by primary care networks.
NHS England chief executive Sir Simon Stevens said he was confident vaccinations will be offered in care homes "well before Christmas".
The government's Joint Committee on Vaccination and Immunisation (JCVI) confirmed its priority list for the first phase of the UK's mass vaccine rollout last week, saying it is vital that the most vulnerable people have access to the vaccination first.
The JCVI said that it was "very clear" that the order of rollout was not dependent in any way on which Tier people live in.
Prof Wei Shen Lim, of the JCVI, said the first phase of the vaccination programme would protect those most at risk and health and social care workers.
He told a Number 10 briefing that from then on the programme would see a banding system, whereby those in the oldest age groups are vaccinated first.
Dr Lim said: "Residents in care homes for older adults and care home workers are the highest priority, following that are those 80 years of age and above alongside frontline health and social care workers."
Prof Wei Shen Lim continued: "Then comes those 75 years above, followed by those 70 years of age and above, alongside people who are clinically extremely vulnerable because of specific health conditions."
He said the banding system would continue with people aged 16 to 64 years with underlying health conditions that also put them at risk.
"The prioritisation order then continues down the age groups, until those aged 50 years and above are included."
He said he hoped that in the first phase of the vaccine programme 99% of the most clinically vulnerable would be covered.
Dr Lim said in the second phase community teams should "work together" to mitigate against healthcare inequalities and take a more "flexible approach" to the prioritisation of vaccine deliver to the remaining age groups.