At least one person has died with Omicron, PM confirms
13 December 2021, 11:45 | Updated: 13 December 2021, 15:03
Boris Johnson has said that at least one person has died with the Omicron variant of coronavirus, as he urged Brits to come forward and get jabbed.
Speaking during a visit to a vaccination clinic in London the Prime Minister said: "Sadly yes Omicron is producing hospitalisations and sadly at least one patient has been confirmed to have died with Omicron.
"So I think the idea that this is somehow a milder version of the virus, I think that's something we need to set on one side and just recognise the sheer pace at which it accelerates through the population. So the best thing we can do is all get our boosters."
Shadow health secretary Wes Streeting said confirmation of the first person to have died with the Omicron variant "underlines the seriousness of the situation".
Read more: Home Covid tests run out and NHS jab booking system crashes amid new rules
Read more: Health Sec warns of 'race against Omicron' as booster jabs offered to all adults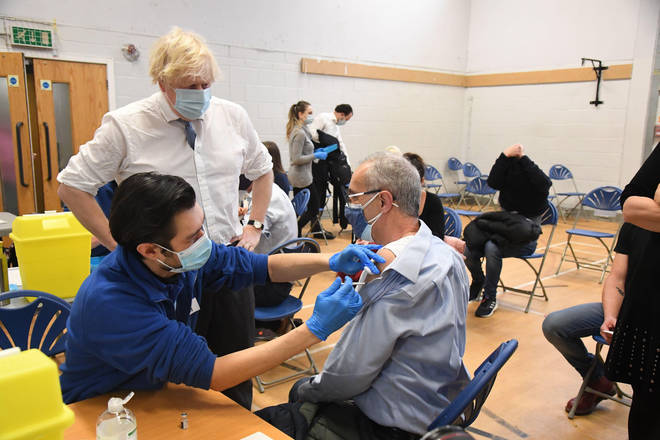 He tweeted: "The awful news of the UK's first Omicron death underlines the seriousness of the situation and my heart goes out to their family and friends.
"This is why the booster rollout is so vital and public health measures are necessary to reduce its spread."
Meanwhile, 10 people in England are known to have been sent to hospital while infected with the variant, aged between 18 and 85, and all are double jabbed, the UK Health Security Agency said.
The news comes as the booster jabs are extended to all over 18 year olds in England, with people scrambling to book their vaccine causing long queues at walk-in centres.
In Westminster queues for vaccines at St Thomas' Hospital snaked around the streets, with some people telling LBC they had been queuing for hours - and the wait was far from over.
The scramble for the jabs follows an announcement from the Prime Minister on Sunday evening, where he confirmed all over 18s should be offered their booster by the end of the year.
Currently it is walk-in only for those hoping to get their boosters, but the online portal is set to open up for all adults from Wednesday.
There were also issues with ordering lateral flow tests on Monday morning, with the government website saying there were "no more available" as they paused orders due to a surge in demand.
From Tuesday, fully-vaccinated contacts of people with Covid-19 will need to take daily lateral flow tests for a week after their exposure.
They could also be needed for Covid-19 passes from Wednesday.
The rapid tests are supposed to be freely available in boxes of seven, from the Government website or from pharmacies.
But on Monday morning, users of the Government website were told there were no more tests available when they tried to order them.
A message on the site reads: "Sorry, there are no more home test kits available right now.
"Try again later.
"Or, you can go back and try to book a test site appointment instead."
Prime Minister Boris Johnson said there was a "ready supply" of lateral flow tests when speaking to broadcasters on Monday, and said people were "doing the sensible thing" by trying to obtain them.