UK coronavirus cases jump by 17,540 - 3,400 more than yesterday
8 October 2020, 16:23 | Updated: 8 October 2020, 17:46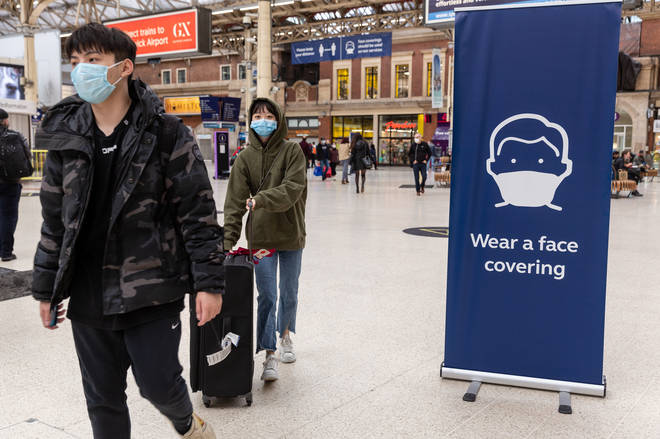 The UK coronavirus tally has risen by 17,540 - 3,400 more than yesterday's figure.
According to figures from the Department of Health, a further 77 people have died from the virus in the past 24 hours.
The Government said that, as of 9am on Thursday, there had been a further 17,540 lab-confirmed cases of coronavirus in the UK. It brings the total number of cases in the UK to 561,815.
The Government also said a further 77 people had died within 28 days of testing positive for Covid-19 as of Thursday. This brings the UK total to 42,592.
Separate figures published by the UK's statistics agencies show there have now been 58,000 deaths registered in the UK where Covid-19 was mentioned on the death certificate.
NHS England said on Thursday that a further 43 people who tested positive for coronavirus have died in hospital in England, bringing the total number of confirmed deaths reported in hospitals to 30,323.
Patients were aged between 32 and 99 years old. All but one patient, aged 71, had known underlying health conditions.
The deaths were between August 10 and October 7. Most were on or after October 6.
Eight other deaths were reported with no positive Covid-19 test result.
Read more: Calls grow for government to explain logic of 10pm curfew
Also, there were 3,044 Covid-19 patients in hospital in England as of Thursday, up from 1,995 a week ago, while 368 Covid-19 hospital patients were in ventilation beds, up from 285 a week ago.
A total of 524 patients with confirmed Covid-19 were admitted to hospitals in England on Tuesday, compared with 310 a week earlier.
Public Health England (PHE) expressed concern about rising hospital admissions.
Dr Yvonne Doyle, medical director for PHE, said: "We are seeing a definite and sustained increase in cases and admissions to hospital.
"The trend is clear and it is very concerning.
"It remains essential that we all continue to socially distance, wash our hands regularly, wear a face covering when needed and follow the guidance if living in an area with additional restrictions.
"Numbers of deaths from Covid-19 are also rising, so we must continue to act to reduce transmission of this virus."
Listen & subscribe: Global Player | Apple Podcasts | Google Podcasts | Spotify
In Scotland, 319 Covid-19 patients were in hospital as of Wednesday, up from 137 a week earlier, with 28 in ventilation beds, up from 15 a week earlier.
In Wales, 277 Covid-19 patients were in hospital as of Wednesday, up from 211 a week earlier, with 27 in ventilation beds, down from 29 a week earlier.
In Northern Ireland, 106 Covid-19 patients were in hospital as of Tuesday, up from 89 a week earlier, with 11 in ventilation beds as of Wednesday, up from seven a week earlier.
Data on patients with Covid-19 is not comparable across the UK due to differences in the way the figures are reported.
Health Secretary Matt Hancock said he was "very worried" about local spikes in cases.
He told health leaders that the situation was becoming "very serious" as hospital admissions were rising in some parts of the country.
Mr Hancock said that the Government strategy was simple, to "suppress the virus - supporting the economy, education and the NHS - until a vaccine can make us safe".
But he also said things may have been done differently during the first wave of the pandemic had more been known about asymptomatic transmission of the virus when people have the virus but are not showing symptoms.
The news comes after doctors warned that 86% of people who tested positive for Covid-19 during lockdown did no have any key symptoms, according to researchers at University College London (UCL).
Read more: 10 million people in northern England face tougher lockdown from Monday