Gang Hurls Wheelie Bins At Police During Dramatic Pursuit
22 October 2018, 12:59 | Updated: 22 October 2018, 13:11
Cops were unimpressed by this gang who hurled bins at their police car mid-way through a pursuit.
Shocking footage shows the moment a police car had to slam on its brakes during a pursuit as a gang hurled wheelie bins at its windscreen.
Police were chasing a yellow car on the streets of Hull in the early hours of Sunday morning when the group of thugs gathered the bins at the side of the road.
But as the yellow car slowed down, the gang aimed the bins at the police car as it approached.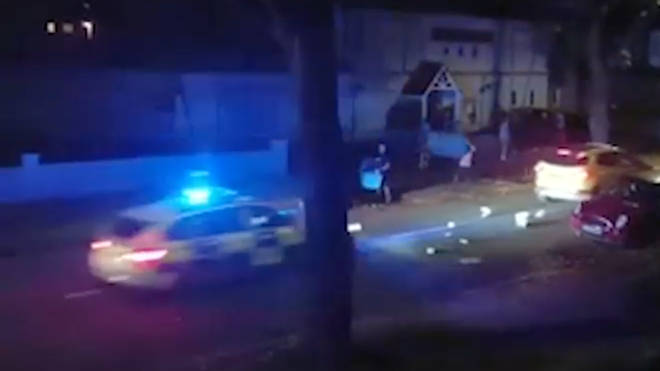 As litter flies across the street, the driver of the yellow car suddenly jumps out and begins to run off but officers were quick on his tail.
But the officer was attacked with another bin as they chased the man.
Witnesses describe seeing the yellow car struggle after running over a stinger strip at a nearby roundabout.
One man was arrested on suspicion of stealing a yellow Ford Ecosport.
The car failed to stop, leading to a short pursuit in which it collided with two police vehicles.
Chief Superintendent Darren Wildbore of Humberside Police said: "The dangers of throwing a bin at a car while the car was travelling could have caused serious injury, not only to my officers but also to the public in general.
"We will be investigating this incident thoroughly to find those responsible for these actions and bring them before the courts.
"Behaviour and attacks like this on our officers simply will not be tolerated."