Terrifying Moment Man Attacks Policewoman With Hammer
14 January 2017, 15:50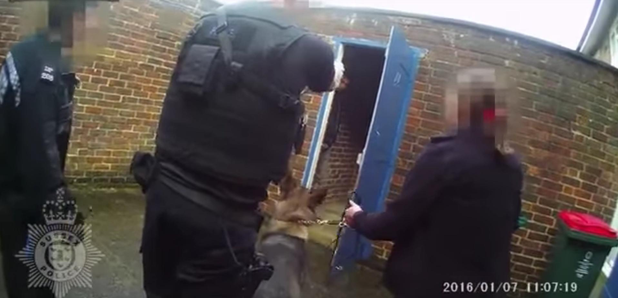 Sussex Police have released shocking footage of a convicted murderer charging at a police officers with a hammer.
The terrifying footage from a police bodycam shows Jamshid Piruz, previously convicted of murder in the Netherlands, charging at police officers with a hammer and attacking them.
Piruz had served six years of a 12-year sentence in Almere for slitting a woman's throat, and came to Britain in December 2015 to visit relatives - never returning home.
In January 2016 police were called to some garages in Crawley, Sussex, where a member of the public saw him attempt a break-in.
When police approached the violent convict, he took a stolen hammer and charged at PC Jessica Chick, who was left trapped and can be heard screaming.
PC Chick manages to fight off the 34-year-old with her baton, but Piruz soon turns to her colleague PC Stuart Young, who was struck by the hammer on the neck and shoulder.
No serious injuries were sustained by the officers.
The man was then detained and arrested, and sentenced at Hove Crown Court yesterday for two counts of attempted grievous bodily harm with intent, burglary, and affray.
Piruz was handed two life sentences for the attempted grievous bodily harm offences to run concurrently, for which he will serve a minimum of five years, as well as nine months for the affray and six months for the burglary.
Speaking after the sentencing Detective Constable James Gwynne said: "This was a particularly violent incident and one which highlights the real risk our officers can face when they do their job.
"I would like to commend the arresting officers for their bravery and professionalism in apprehending Piruz.

"Piruz's conviction would not have come about without the dedicated team of officers working throughout the investigation and I am pleased with the custodial sentence given."