Vote For The Bravest Police Officers In London
24 January 2017, 14:33 | Updated: 24 January 2017, 14:56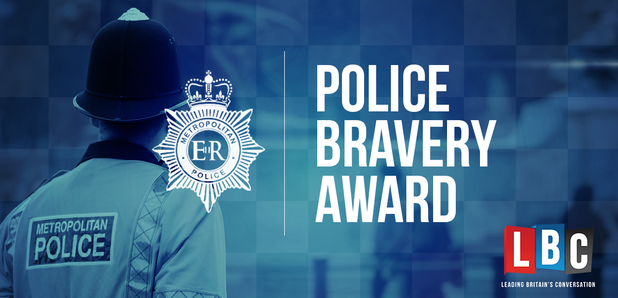 These are the nominees for the Bravery Of The Year Award in the Met Police Awards. Vote for who should win.
Londoners are asked to pick the winner of the award for the bravest police officers.
The nominations are:
- Officers who rescued ten people including a baby and pregnant woman from fire.
- Two officers who grabbed a man wearing a suspected suicide vest.
- Dog handler who tackled a knife-wielding man who had doused himself in petrol.
- Two PCs who twice entered a burning building to rescue an unconscious woman.
VOTE NOW!

Towering Inferno
PC Ben Davis, PC Tim Andrews, PC Pierce Madden, PC Jack Wilber and Insp Dan Marshall
As PC Wilber and PC Buck attended a domestic indicent, they were unexpectedly confronted with a block of flats ablaze with smoke billowing from the entrance. PC Buck successfully detained a man with apparent mental health issues making repeated threats to kill and dousing petrol near both exits of the building.
Then, along with three other officers who arrived, they took the courageous decision to charge into the blaze to save lives. Despite the risk to their own lives, the officers continued to search every flat within the three-floor building. They successfully rescued all ten people trapped inside, including the new baby, and directed them away from the burning cars that were at risk of exploding at any point.
Suicide Vest
PC Jason Hodgson, PC Alex Field, PC Marc Woolmer, PC Sam Homer, PC Wayne Pullen
After arresting a man that was so aggressive, he needed two sets of handcuffs to subdue him, the officers spotted coloured electrical wires protruding from the suspect's jacket, suggesting he was wearing a suicide vest.
Mindful they were in a densely populated area very close to Arsenal's Emirates stadium, the made the selfless decision to tightly hug the suspect to prevent his movement from triggering the device.
The Knife Man Doused In Petrol
PC Jamie Plumer
Dog handler PC Plumer was confronted by a man with a knife, who had doused himself and a local property with petrol. Directing members of the public away from the incident, he decided not to deploy his police dog Bear, as the man was having a mental health episode, but was aware of how easy he could have started a deadly fire.
When the man entered a garden and began stabbing a tree, the officer tackled the man from behind and restrained him until back-up arrived.
The Pitch-Black Building
PC Craig Nicholson and PC Shand Panesar
Arriving at a raging fire before the Fire Brigade, the officers were told a man and a woman were inside the house. With no fire safety equipment, they charged into house, searching blind in thick black smoke in a desperate attempt to find those trapped inside.
They heard a man shouting for help from the first floor but were beaten back by the force of the blaze and forced to leave. But knowing if they did nothing the duo would die, they took deep breaths before battling their way upstairs and rescuing them. The woman would have died if they didn't save her.