WATCH: Thug Breaks Policeman's Jaw With Single Punch
10 December 2016, 09:47 | Updated: 10 December 2016, 09:53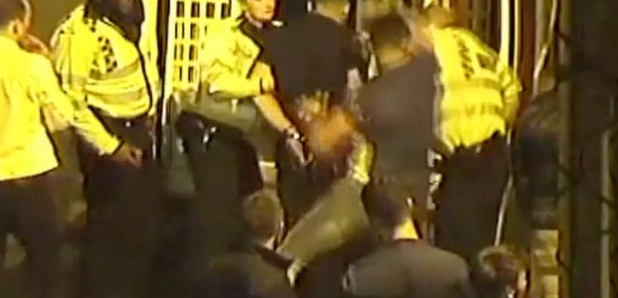 This is the moment a thug broke a policeman's jaw in two place with a single punch in a shocking late night attack.
The dramatic CCTV footage shows 24-year old Demitre Clarke-Oliver delivering a single blow on the unsuspecting officer, who was attempting to detain another man doing an incident in Oxford.
Police then chase the man down the road were he attempts to brawl with another office before being brought down.
Clarke-Oliver of Kennet Walk, Reading, pleaded guilty on 3 October at Oxford Magistrates' Court to a section 20 GBH and was sentenced to two years' imprisonment following the assault on PC Raymond Tse.
PC Tse had to undergo an operation to insert two plates and eight pins to reconstruct his jaw following the assault.
Supt Joe Kidman, LPA Commander for Oxford, said: 'Clarke – Oliver attacked PC Tse from behind without provocation or warning and then ran away. He then threatened another officer before being subdued and arrested. It is to PC Tse's great credit that despite the serious injury to his jaw he assisted in this arrest.'
"This incident is a sobering reminder of the risks that our officers willingly take every day and night to keep our city safe. We are also reminded of the impact this has on our officer's families and loved ones who provide such valuable support despite knowing the risks they face."
"The blind side punch broke PC Tse's jaw in two places and he has suffered a great deal of pain and discomfort."
Speaking following the sentencing, PC Raymond Tse said, "violence against anyone is never acceptable and, in our role as Thames Valley Police officers, we work very hard to ensure that those who carry out assaults are brought before the courts to face justice. I
"In this incident myself and the other officers attending were in the process of arresting another man in connection with a separate violent assault against a member of the public. While we were in the process of doing this, I was unexpectedly struck by Clarke-Oliver's fist which he slammed in to the side of my face, causing me a lot of pain."
"He ran away however my colleague and myself were able to apprehend and arrest him to carry out our duty to protect the public, ensuring no one else was subjected to this kind of assault."