Road Rage Face-Off Between Cyclist And Angry Biker
21 October 2016, 15:11 | Updated: 21 October 2016, 17:47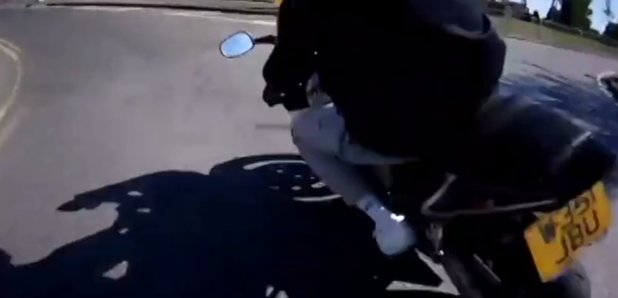 This video appears to show the terrifying moment a cyclist is almost hit by a motorbike in Reading - prompting a heated argument and an aggressive debate about who was in the wrong.

The cyclist says he's passed the details of the incident on to police.

The video was reportedly shot on the afternoon of 12th August this year, with the biker overtaking the man as he rides his bike. He cuts across the bike to do so, something that sparks a furious outburst from the cyclist.

(Caution: Very strong language)

(Video courtesy of NewsFlare)

Moments later, the biker pushes his vehicle along the path and the pair engage in an angry exchange about who was in the wrong.

The motorcyclist repeatedly asks the cyclist where his lights are and accuses him of not indicating what way he was travelling.

"Listen to me, I've done my f***ing test!" the biker shouts at the cyclist.

"There's a different rule for cyclists!" replies the man on the bike.

Then, things get very threatening as the biker turns aggressive, including him threatening to throw the cyclist's camera away.

LBC has contacted Thames Valley Police for a statement. They've confirmed they're investigating the tape.

More to follow...