Children Run Into Path Of Oncoming Lorry In Chilling Near Miss
7 February 2018, 15:40 | Updated: 7 February 2018, 15:47
Chilling dashcam footage has the captured the moment three children narrowly missed being hit by an oncoming lorry after running out in front of it.
The group were stood on a verge close to a bend in Norfolk with two women stood behind them.
All of a sudden the children run out in front of the lorry, which was travelling towards them at about 30mph.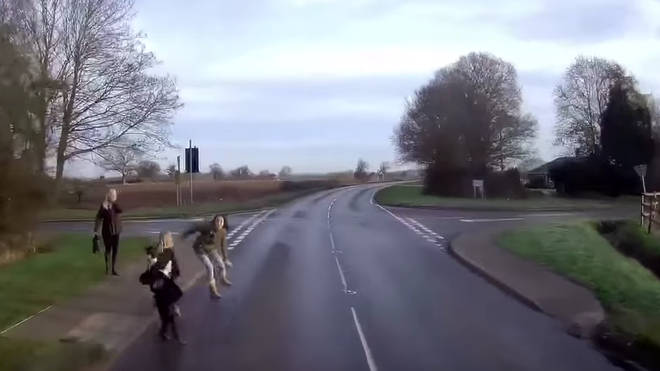 Heart-stopping dashcam footage shows the woman, understood to be their mother, leap out into the road in a bid to stop them.
Luckily the quick-thinking driver sees them in time and slams on his brakes.
He stops just short of the group and the woman puts her hands up as an apology.
The video has since been uploaded to YouTube with a description which says: "Kids run out in front of my 7.5 ton fully loaded lorry.
"I did stop and check on the kids and mum.
"They were all shaken by the near miss but, after a few minutes they were all fine and I went on my way."