Cyclist Road Rage: Man Smashes His Bike Into £56,000 Mercedes
25 October 2018, 08:14 | Updated: 25 October 2018, 09:38
A cyclist rammed a £56,000 Mercedes with his bike after accusing him of trying to run him off the road.
Dashcam footage caught the moment the bearded cyclist got into an angry row with a smartly-dressed chauffeur close to Borough Tube station.
The video shows the cyclist jabbing his fingers in the driver's face, before lifting up his bike and smashing it into the bonnet of the car.
The cost of the repairs to the three deep scratches on the car cost £1,500.
The chauffeur, who wanted to remain anonymous for fear of further reprisals from cyclists, called LBC as we were discussing the video.
He told Nick Ferrari: "No matter what happened before or during, that is criminal damage.
"I was frightened by what happened to me. I was poked in the face and intimidated. I am not anti-cyclist, we all have to share the road.
"Rules need to be made with regards to cyclists. This cannot continue. They are unidentifiable. Something needs to be done as regards to being able to identify cyclists.
"Myself and my colleagues have this every single day."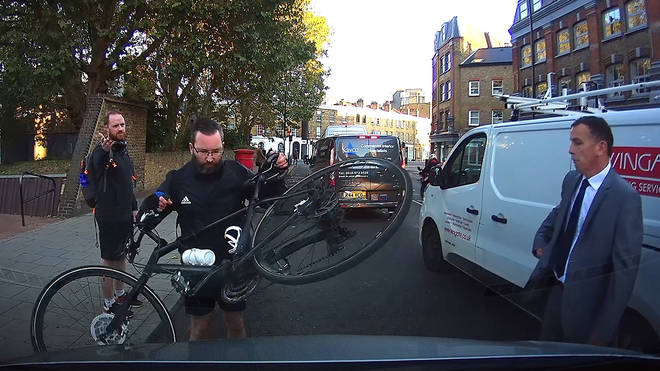 The incident is being investigated by police, although no arrests have currently been made. A police spokesman said: "On Sunday, 30 September police received a report of an allegation of common assault.
"A 54-year-old man reported to police that he had been assaulted by a male cyclist on September 27 at around 7.30am in Marshalsea Road, SE1.
"The victim informed police the incident happened when he had been travelling in his car. He alleged that the cyclist deliberately collided with his vehicle and when he confronted him, pulling up alongside him near a curb, the cyclist abused him and assaulted him."