Petty Road Rage Squabble Ends With Punch To The Face
12 June 2018, 11:16 | Updated: 12 June 2018, 11:32
A squabble between two motorists fighting for space on the road escalated when one of the drivers punched the other in the face after blocking the road.
A row between two drivers spiralled out of control when one of the drivers took matters into his own hands.
Dashcam footage caught the moment the driver of the Land Rover became so enraged by the squabble he blocked the road, walked out and punched the driver of the van in the face.
The shocking video shows both vehicles competing for a single lane, with the van coming within inches of the Land Rover.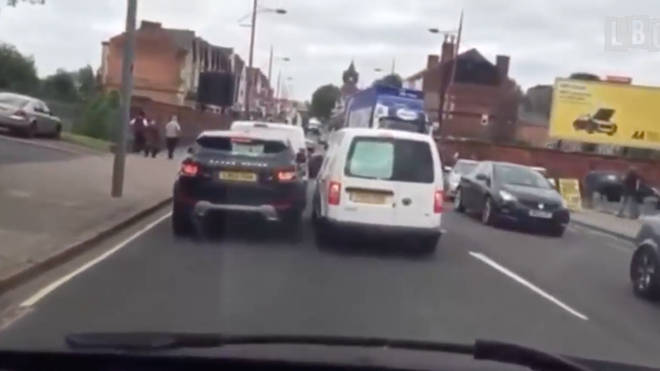 As the van squeezes forward, the Land Rover attempts to mount the curb to undertake.
But instead the 4x4 swings out into oncoming traffic and pulls up in front of the van.
While blocking the road, the driver of the Land Rover marched over to the van driver and threw his fist through the open window.
The shocking incident ends as the driver retreats to his 4x4.
Watch the squabble play out in the video at the top of this page.