Plain-Clothes Police On Scramblers Intercept Moped Riders In Dramatic Dash-Cam
26 June 2018, 13:28 | Updated: 26 June 2018, 13:30
Dramatic dash-cam footage shows the moment two unmarked police bikes swooped on a pair of moped riders in incredible style.
The gang were filmed driving side-by-side as they made their way down a road in Manchester at about 4pm on May 12.
As they came to a halt at a roundabout two plain-clothes officers intercepted them in remarkable fashion.
One officer clipped the scooter on the right, sending the bike to floor and its rider making off on foot.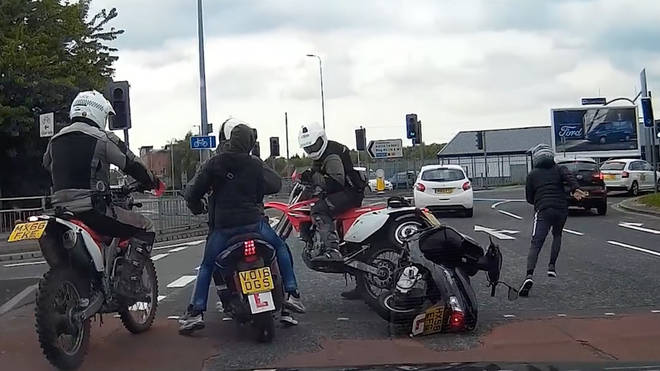 The other blocked the rider and his pillion passenger on the left, with a marked police bike approaching from behind to prevent any escape.
It's not known why the moped riders were stopped, but the swift actions of the police have been praised.
One viewer demanded the tactic is used to tackle the moped gang crime wave sweeping across London.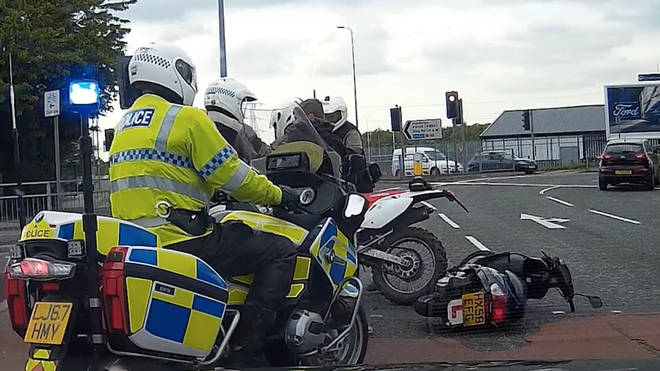 They wrote: "Get in! Maybe they can use this tactic in London against the robbers on scooters. Knock 'em over. YES."
Another added: "That's what I call well spent tax payers money!"
Last year Greater Manchester Police launched a new team to tackle issues with off-road bikes.
The Safer Roads Targeting Team is equipped with a fleet of on and off-road bikes and unmarked cars to help catch offenders.